By Tom Anderson
Corporate Occupation has been provided with photos of JCB equipment being used by the Israeli Occupation Forces (IOF) during a home demolition in Al Jiftlik in the occupied Jordan Valley on the 20th of November 2013.
It was the second time in three months that the Al Kha'abne family home was demolished, according to Jordan Valley Solidarity, a local grassroots campaign.
Home demolitions are common in the Jordan Valley, with Area C communities (those living within areas designated as temporarily under Israeli control by the Oslo Accords)  being under threat of ethic cleansing by Israel. These demolitions take place with the help of equipment manufactured by international companies such as JCB, Volvo and Caterpillar.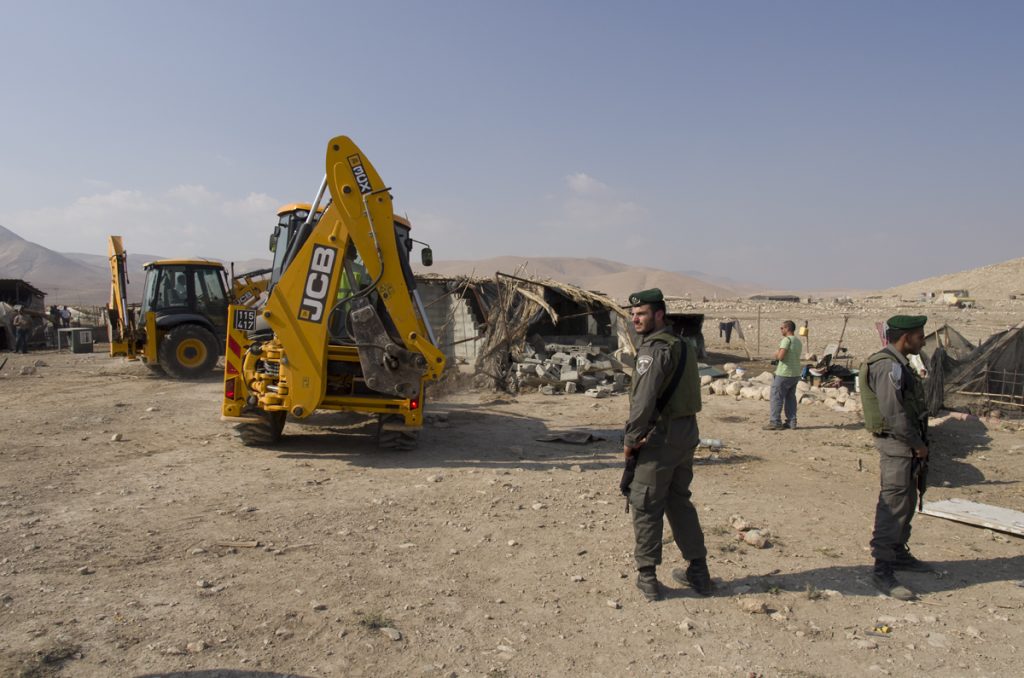 JCB (JC Bamford Excavators) is the world's third largest construction equipment manufacturer and produces equipment used in the agriculture, defence and construction industries. The company is British with a head office in Rocester, Staffordshire. It is privately owned by the Bamford family.
JCB equipment has been used for construction in the illegal settlements of Alfei Menashe and Zufin and at the checkpoints in Qalandia, near Ofer prison and in the Ariel West settlement industrial zone. JCB machinery is being used in the A1 tram line project between Tel Aviv and Jerusalem, which crosses the Green Line, and was used during the construction of the East Jerusalem tram line in illegally occupied territory.
Article by Jordan Valley Solidarity about the November 20th home demolition in Al Jiftlik:
Jordan Valley Solidarity volunteers, who helped to rebuild a family home in Jiftlik demolished by the Occupation Forces , are returning to rebuild the house again next week.
The house of Sued Al Kha'abne was demolished at 10am on Wednesday 20th November, with the occupation forces giving the family no time to remove their few possessions from their home.
The family's home was previously demolished just 3 months ago. It is home to 10 people. The mother is distraught, the father is blind in one eye, and it is left to the girls and the mother to rebuild the shelters for their animals and themselves.
In a desperate attempt to stop their home from being demolished again, they paid a Palestinian Authority lawyer 3000 shekels (around £500) to challenge the legalities of the impending demolition.
They now have to face a winter with nothing but a shelter covered with plastic. When they saw the volunteers visit the ruins of their home in preparation to help work with them again they said: "Please, take pictures of us and let the world know what Israeli's are doing to us."
Asked of her feelings following the destruction of her home one of the young girls said that she wanted to convince her parents to leave this place and go to and live elsewhere. However, to the family this is their home, and they want to be able to stay.