By Amy Hall, Lydia Noon, Eliza Egret and Tom Anderson 
Not content with continuous demolition of school classrooms, the Israeli authorities have now moved on to the demolition of homes in the Palestinian Bedouin community of Abu Nuwar.
Around 8.30am on Wednesday 4 July, Corporate Occupation witnessed Israeli soldiers, border police and representatives of the civil administration arriving in the village, which is in the West Bank district of Jerusalem, and declaring the area a closed military zone.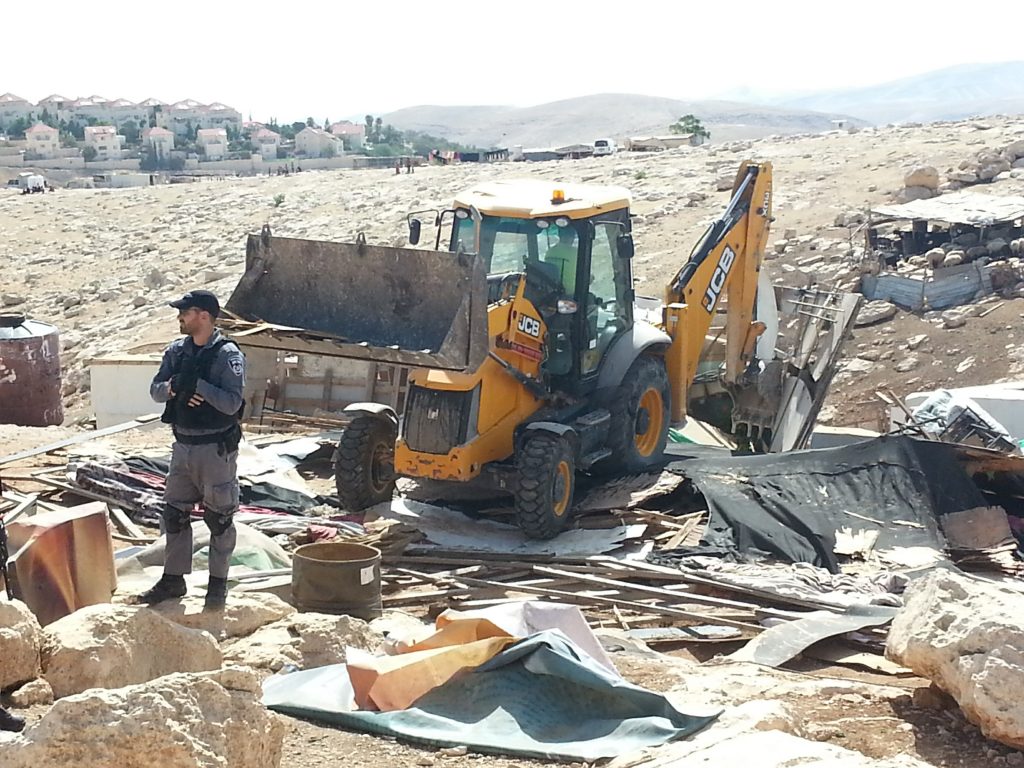 According to B'Tselem, nine homes were destroyed, along with three farm buildings, leaving 62 people – about half of them children – homeless. Bulldozers made by the British firm JCB were used to demolish buildings as a surveillance drone was flown overhead.
Like Khan al-Ahmar, just down the road, the Bedouin community of Abu Nuwar is being threatened with relocation by Israel. It stands in the way between annexed East Jerusalem and the huge settlement of Maale Adumim which looms over the village. The Israeli authorities plan to build thousands of settlement houses here, in the "E1 corridor", and further divide the West Bank.
Abu Nuwar, which has around 600 residents, is tucked away behind the main road – a road people can only use by car, massively restricting people from moving with their animals. Before the Apartheid Wall was built, people from Abu Nuwar were able to sell their sheep in Jerusalem, now they can only sell in cities within the West Bank, which they say brings in a much smaller income.
Several demolitions were reported in the West Bank on 4 July. As demolitions in Abu Nuwar took place, the authorities prepared to demolish the village of Khan al Ahmar, home to nearly 200 people. Israeli Civil Administration officials took down barriers at the side of the road to give access for bulldozers and vehicles.
Several people were arrested during a protest which blocked a bulldozer from getting through. Israel's Supreme Court ruled in favour of demolishing Khan al Ahmar in May, after an international campaign to save the village and its school.
https://twitter.com/ElizaEgret/status/1014399230180495360
https://twitter.com/ElizaEgret/status/1014396664835166209
In February 2018, Israeli forces demolished two classrooms of Abu Nuwar's school, affecting over 25 students. This was the fifth demolition or confiscation of classrooms since February 2016. In April, we interviewed community representative Abu Imad about the community's struggle for survival. We spoke inside Abu Nuwar's community centre which was being used as a temporary classroom for the third grade.
Why is this building now being used by the school?
We are forced to use it because of the demolition of the classrooms.
The closest school to this community was 2km away. There is no transportation and there is no good road. It's very tiring for children to make it the whole way – children as young as five or six years old. In collaboration with some associations in the European Union (EU) we established the kindergarten and we got an order from the court that prevents the occupation from demolishing it.
Since then we have built many classrooms for the school which have been demolished or confiscated. We have been working with our lawyer and going to the Israeli court try and stop this happening.
The most recent demolition was on 4 February 2018. They did it between 2.00am and 5.00am and they used JCB machines. When they come to demolish they close the entire area and make it a closed military zone.
What support have you had from international governments and NGOs?
There is always logistical support from organisations providing us with water tanks. They just provide us with material to be demolished again. They try to put pressure on the occupation to stop these practices but it's not enough. They are always shy when talking to the occupation.
We had welcomed a lot of groups of British politicians as well and we asked them to support us with a bus for students, but they have not tried to help.
Our fight is to keep presence on the land in the first place. Even though nowadays our options are getting narrower. Internationally speaking we can see that there are many countries supporting the state of Israel and we can predict that we will be living in more enclosed and pressured situations in the future.
It's frustrating and depressing. We have many international agreements that Palestinians have the right to live peacefully and safely and they don't respect these laws at all.
For three years they have been trying to make us willingly leave. The Civil Administration said they would give us money to leave. We didn't even open the door to ask how much, but they seem to be ready to pay anything.