Corporate Occupation has completed its latest research, looking at which companies manufactured the construction equipment used to demolish Palestinian homes and property in 2019.
We have analysed each incident in 2019 (such as a house demolition, the razing of a field, or the breaking of water pipes) and we have searched for photographic or video evidence of the type of bulldozer (such as JCB or Caterpillar) that has been used.
JCB machinery has, once again, been used extensively by the Israeli forces and Israeli Civil Administration in Palestine.
In 2019, we found that JCB bulldozers were usually used to carry out demolitions in vulnerable farming or Bedouin communities in the Jordan Valley or the South Hebron Hills. The bulldozers were most often used to destroy people's homes or animal structures, olive and fruit trees. They were also used to destroy wells, and community fresh water systems, cutting off villagers from water sources.
In 2019, we found that incidents involving JCB machines
Affected at least 29,483 people
Displaced at least 123 people
Displaced at least 39 children
Destroyed at least 6,784 olive & fruit trees
Destroyed at least 20 water systems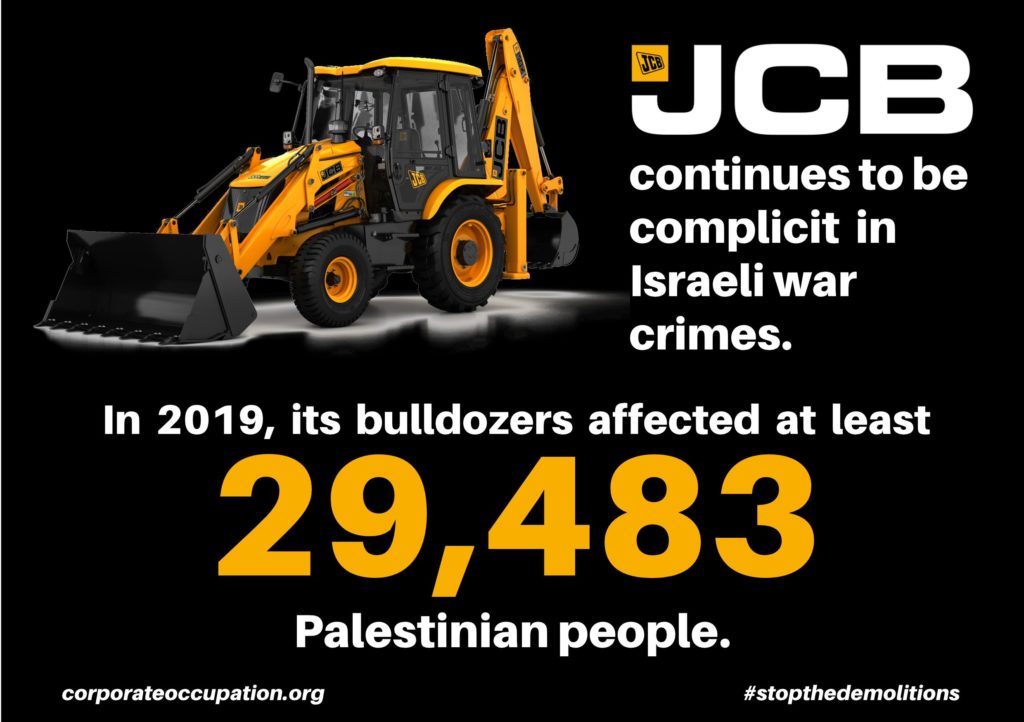 The total amount of people affected by JCB equipment is extremely high. This is because demolitions carried out with JCB bulldozers affected whole villages (rather than just one household) by cutting down orchards or by destroying water systems.
The below table shows the number of demolitions of Palestinian structures, farmland or trees where we could prove 100% that JCB machines were used.
| | |
| --- | --- |
| Homes | 34 |
| Commercial building | 1 |
| Power room | 1 |
| Swimming pool | 1 |
| Latrine | 6 |
| Animal structure | 9 |
| Storage/agricultural structure | 3 |
| Walls/fences | 5 |
| Solar panel | 1 |
| Water pipe | 7 |
| Water cistern/tank/well | 10 |
| Reservoir | 3 |
| Sewage works | 1 |
| TOTAL STRUCTURES | 82 |
| Trees | 6784 |
| Incidents where JCB machines were used to raze land | 2 |
| Incident where JCB machines were used by Israeli forces to create road blocks | 1 |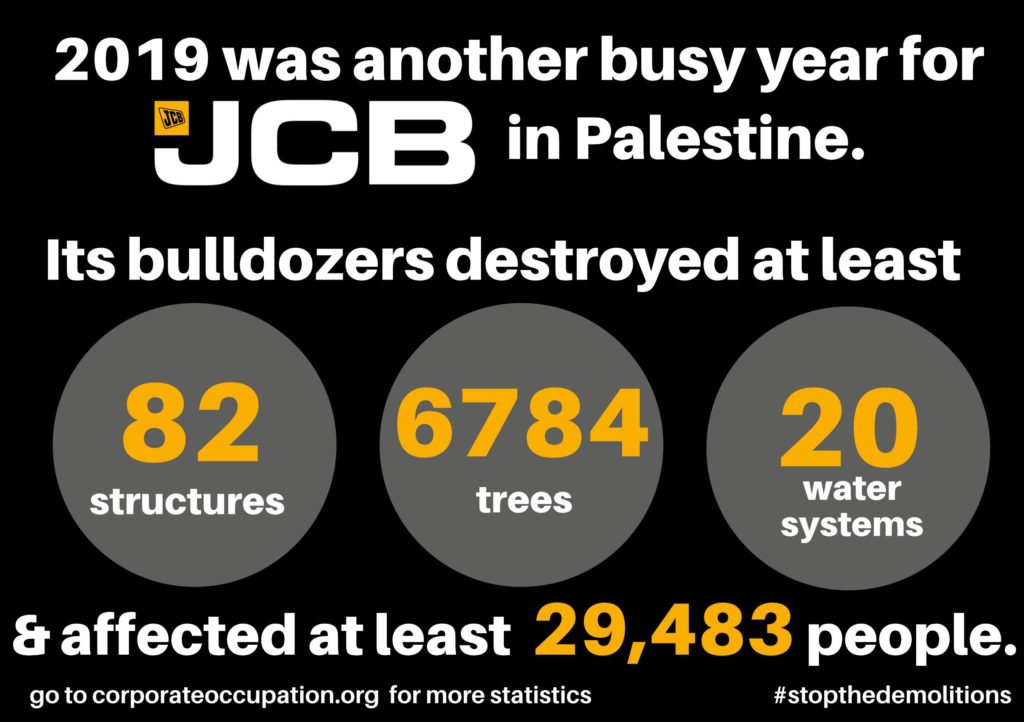 How we compiled our data
We compiled our data by using the Israeli Committee Against House Demolitions' monthly Demolition & Displacement Reports. We painstakingly searched the internet for photo/video evidence of which bulldozer was used for each demolition/razing of land/chopping down of trees.
For around 60% of demolitions, we could not be 100% sure of the bulldozer used, and therefore these demolitions are not included in our final figures. This is because many news agencies and social media users upload stock photos or random photos of demolitions when reporting on a specific incident. If we were uncertain whether a photo was a stock photo, we did not include it in our results.
We used ICAHD's statistics to record the number of people displaced/affected in each incident, and then added them up to make a total. If ICAHD didn't record the number of people displaced or affected in an incident, neither did we. For one incident, where 3,000 trees were destroyed, we used the UN's Office for the Coordination of Humanitarian Affairs (OCHA) statistic.
To view our yearly table of the number of demolitions identified, and bulldozers that were used, download this document here