Caterpillar is headquartered in the United States and employs 100,000 people. The company's profits skyrocketed by 700% in 2019 to $6.15 billion.
This company profile summarises:
• Injuries and deaths caused by Caterpillar bulldozers
• Caterpillar's dealerships in both Israel and the UK
• Resistance against the company so far
• Legal action taken against the company
• Divestment successes
• Current UK universities' involvement with Caterpillar
• How you can take action
Introduction
Caterpillar's 60 ton D9 military bulldozer has become a symbol of Israel's oppression of the Palestinians.
Caterpillar D9s were used in the brutal occupation of the West Bank and Gaza in 1967, and the occupation of Lebanon in 1982. D9s tried to crush the resistance in Jenin refugee camp in 2002 and flattened over a thousand houses in Rafah in 2003.
Rachel Corrie, a member of the International Solidarity Movement from the US, was crushed by a D9 while trying to prevent a demolition of a Palestinian home in Gaza.
The D9 bulldozer is the Israeli military's weapon of choice when carrying out its punitive demolitions, in contravention of international law. These demolitions are acts of collective punishment, aimed at wreaking vengeance on the families of Palestinians who are suspected of resistance.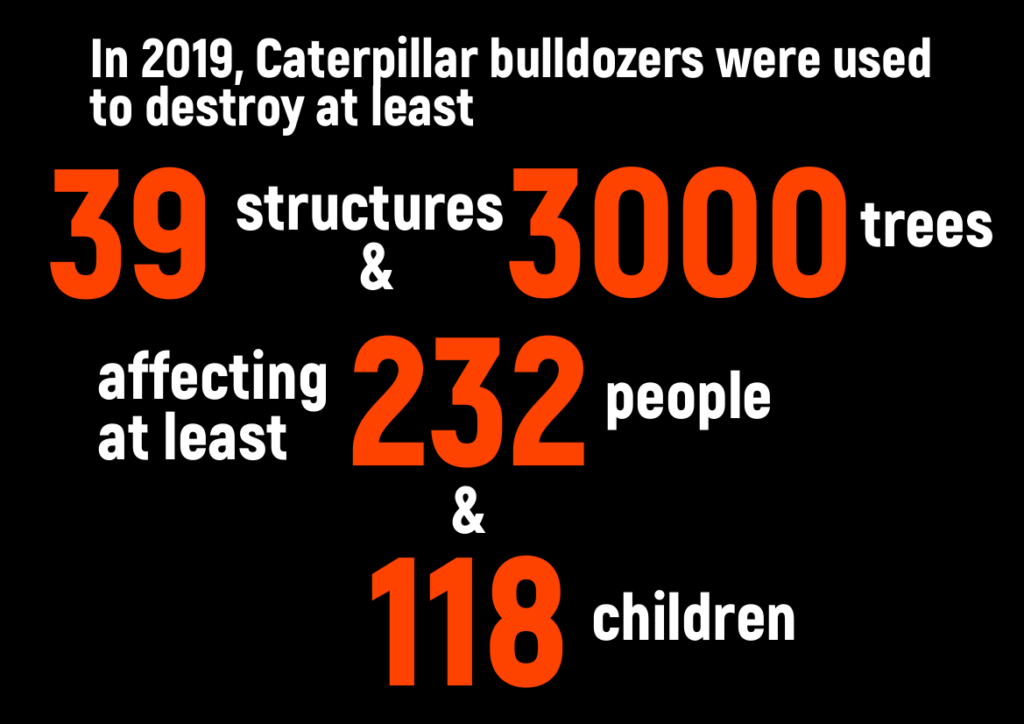 Caterpillar's non-military bulldozers are regularly used in Israel's home demolitions in the West Bank, in settlement building and in working on Israel's apartheid wall. They are also used to build roadblocks and checkpoints.
Corporate Occupation found that in 2019, Caterpillar's bulldozers affected at least 232 people. Caterpillar machines were used in all of Israel's punitive demolitions in Palestine. To read our full report on 2019 demolitions, click here.
Timeline of deaths and injuries caused by Caterpillar bulldozers
The timeline below documents the people who have been killed or injured by the Israeli Occupation using Caterpillar bulldozers between 2002 and April 2020. These are only the incidents where we could successfully identify that Caterpillar bulldozers were used. There may be more deaths or injuries where there was no photographic or witness evidence.
It is better to view this timeline on a computer screen. To zoom in on the timeline, right click and 'View Image' or 'Save Image'. Or you can view or download a sharper PDF version of the timeline here.

Incidents so far in 2020
A shocking video taken on 21 February 2020 shows a Caterpillar military bulldozer, pushing rocks in its path, being driven at Palestinian protesters in the West Bank village of Kufr Qaddum. Two protesters were injured.
And on 23 February 2020, Mohammed al-Naem was murdered by the Israeli military, close to the Gaza Fence. His body was then stabbed repeatedly by the blades of a Caterpillar bulldozer, before being picked up in the machine's bucket.
Palestinian journalist Muthana al-Najjar told Al Jazeera:
"Residents of the area came to the incident's location, and there were loudspeakers calling on people to hasten and attempt to retrieve the bodies before the army comes and steals them as has been the case several times before."
Al-Najjar described how Israeli vehicles, including a [Caterpillar] military bulldozer, approached the scene:
"The bulldozer wasn't there yet, so four young people managed to reach the body and put the martyr on the wheelbarrow, but he fell off on their way back because of the Israeli fire and their fear of getting shot. They tried to carry him again, but the Israeli soldiers shot one of them, and he was injured so their balance was disturbed, and the martyr fell off again.

During the third rescue attempt, the bulldozer entered Gaza with the tank. And for the first time in years, we saw an Israeli bulldozer entering around 70 metres into Gaza."
The Gaza health ministry confirmed that two of the rescuers were injured, one shot in the leg.
Shocking footage from the scene shows the rescuers coming under attack as they tried to retrieve Al-Naem's body. It also shows the bulldozer prodding Al-Naem with the blades, before scooping him and dragging him away.
Shahd Abusalama is a Palestinian student from Gaza, currently studying at Sheffield Hallam University. She told Corporate Occupation's Tom Anderson:
"The documented crime was too horrific to watch, even for the Palestinian people who are very familiar with Israel's brutality. When the video came to my attention it struck me so terribly. I thought I couldn't any longer be shocked with Israel's criminality, but there is always more criminal actions that leave you in even more shock.

This is an expression of Israel's immunity when it comes to their repeated crimes against the Palestinians. This crime is one of many that went unseen, and is reflective of the unprecedented dehumanisation Palestinians are subject to…

I remember when I talked to my family following the incident, while Gaza was under bombardment again, they were all lacking any words to describe the [indignity with which the Israeli military treats] Palestinian bodies.

My father was especially angry, he asked: 'What if that person who was dragged and stepped on multiple times with a Caterpillar bulldozer had been an Israeli citizen, what if it hadn't been a Palestinian body that had been treated in that horrific, brutal way? If it was an Israeli citizen then words of condemnation would be filling the public domain and politicians would be competing to condemn it in their strongest words. But these words of condemnation shouldn't be left suppressed just because the crime has fallen on another Palestinian."
A Caterpillar bulldozer was also used to move Fakhr Qurt's body in the West Bank earlier in February 2019.
Incidents between 2002 & 2019
2002: Jenin massacre
D9s played a major part in the repression of the Second Palestinian Intifada (uprising). In 2002, D9 bulldozers were sent into Jenin refugee camp as part of the operation to crush resistance. An area the size of several football pitches was levelled by the bulldozers. At least 52 Palestinians were killed.
One Israeli soldier became famous for his role as a D9 operator, demolishing the camp. His name was Moshe Nissim, nicknamed 'Kurdi Bear'.
This is his testimony, published in the popular Hebrew daily Yedioth Ahronoth:
"Many people were inside houses we started to demolish. They would come out of the houses we were working on. I didn't see, with my own eyes, people dying under the blade of the D9. And I didn't see houses falling down on live people. But if there were any, I wouldn't care at all. I am sure people died inside these houses, but it was difficult to see, there was lots of dust everywhere, and we worked a lot at night. I found joy with every house that came down, because I knew they didn't mind dying, but they cared for their homes. If you knocked down a house, you buried 40 or 50 people for generations. If I am sorry for anything, it is for not tearing the whole camp down."
Nissim was given a medal for his role in the Israeli war crimes in Jenin.
2003: Death of Rachel Corrie
Rachel Corrie, a volunteer with the International Solidarity Movement, was crushed to death by a D9 bulldozer on 16 March 2003. She was trying to protect a Palestinian home in Rafah, in the Gaza Strip. Rachel, who was from the US, has become an icon of international solidarity with the Palestinian struggle.
Palestinians killed during home demolitions by Caterpillar D9s
It is less easy to name all of the Palestinians who have been crushed as D9s demolish their homes. Here are some documented cases:

In April 2002, eight members of the Al Sho'bi family were killed in Nablus when their home was destroyed by a D9. The bulldozer came without warning in the middle of the night. The oldest person, Umar, was 85, while three young children, Anas, Azzam and Abdallah, were aged 4, 7, and 9 respectively.
Also in April 2002, Jamal Fayed, a severely disabled man, was crushed as a D9 destroyed his home. Members of his family informed soldiers that he was inside, but the Israeli occupation went ahead with the demolition regardless.
In 2004, 70 year old Ibrahim Mahmoud Mohammed Khalafallah was killed during a demolition in Khan Younis refugee camp, Gaza. Ibrahim was deaf and could not walk. His family were not allowed to help him as a D9 demolished his home.
In November 2015, Ahmedal-Ayesh, 28, and Laith Manasra, 21, were shot dead during a protest against a punitive demolition of a Palestinian home.
2003-4: Destruction in Rafah
The Israeli military sought to create a buffer zone along the 'Philadelphi corridor', the name it gave to the densely populated area of Rafah, Gaza, lying close to the Egyptian border. It did this by using Caterpillar's D9 military bulldozers to brutally demolish the Palestinian houses in the area.
This assault culminated in a full-scale attack and siege on the Gaza Strip, dubbed 'Operation Rainbow'. During 'Operation Rainbow' houses, roads and agricultural fields were ripped apart by D9s. 289 houses were destroyed by the Israeli military in Gaza in May 2004.
Human Rights Watch wrote:
"During the incursions into Tel al-Sultan and Brazil [in Rafah], the IDF employed armoured Caterpillar D9 bulldozers in a manner that was indiscriminate and excessive, resulting in widespread destruction of homes,roads, and agriculture that could have been avoided."
The report went on to demand that Caterpillar: "Suspend sales of D9 bulldozers, parts, or maintenance services to the IDF" and "seek to ensure that Caterpillar's goods and services will not be used to abuse human rights".
Unfortunately, Caterpillar paid no attention.
Repression of popular resistance in Kufr Qaddum
For several years, Caterpillar's 60 ton D9s have been used as crowd control weapons against protesters in the village of Kufr Qaddum.
Strengthening the Gaza Apartheid Wall
In 2018-19, Israeli contractors were strengthening the apartheid wall around Gaza. The wall is an integral part of Israel's siege of Gaza. Caterpillar civilian and military bulldozers have been in use in strengthening the wall.
2018-present: Great March for Return
Caterpillar D9 bulldozers are regularly being used to flatten land next to the Gaza apartheid wall – the barrier separating the Gaza Strip with the land that was taken by military force by Zionist militias in 1948.
215 protesters have been killed, at the time of writing, in the Great March for Return. Levelling the land gives the snipers a clear shot at people who are protesting for their freedom.
The use of unpiloted bulldozers
Caterpillar and Israel Tractors and Equipment produce a driverless D9, known as Thunder of Dawn. This was used in Israel's second attack on Lebanon in 2006.
Foreign military sales
Caterpillar supplies military bulldozers to the Israeli military under the US Foreign Military Sales programme.
Retrofitting of Caterpillar military bulldozers
Caterpillar's military bulldozers are kitted out with armour specially for the Israeli military by Zoko Enterprises, along with Ramta, a division of Israel Aerospace Industries.
Caterpillar's dealerships
Caterpillar distributes its products through an international network of dealerships and representatives: Caterpillar is represented in Israel by Israel Tractors and Equipment (part of Zoko Enterprises).
WhoProfits? states that:
"Haaretz reported [in 2009] about a planned contract between the army and the company, which would enable the immediate drafting of Zoko's civilian staff, in order to allow them full access to the tools on the battlefield. No information was found confirming the final signing of such a contract."
CP Holdings (UK) owns 83.08% of Zoko. It also owns several Caterpillar dealerships in Europe. CP Holdings is headquartered in London.
Caterpillar are represented in the UK by Finning. Finning's UK locations can be found here.
The engines for Caterpillar equipment are built by Perkins, a wholly owned subsidiary of Caterpillar.
Resistance against Caterpillar so far
There is a long and creative history of campaigning against Caterpillar's involvement in Israel's home demolition policy. We have included some highlights below.
UK/Europe
In 2002, during the European Social Forum, 100 'Disobedientes' occupied the Caterpillar factory in Florence in solidarity with Palestine. In the UK, activists picketed Caterpillar's premises in Desford.
In 2004, on the anniversary of Rachel Corrie's death, activists occupied the Caterpillar Defence Industries factory in Shrewsbury, UK.
Campaigners in the UK also occupied Caterpillar bulldozers at the Hillhead Construction industry trade fair in Derbyshire.
Later that year activists held a protest inside Caterpillar's Cannock depot. A series of protests were held in 2004 against Caterpillar's Financial Services HQ in Solihull. Activists tried to present company executives with a 'Homewrecker of the year' award.
Protesters across the UK also took their message to the high streets, calling for a boycott of Caterpillar clothing and merchandise. During the mobilisation against the G8 in Germany in 2007, activists held a mass protest against a Caterpillar dealership. After the protest, anonymous activists set machinery at the dealership alight.
In 2018, students at the University of Cambridge called on the university to end its service agreement with Caterpillar, as well as arms company BAE Systems.
Their statement read:
"As members of the University of Cambridge, students and staff alike, we are deeply ashamed that our institution maintains such large and active links with corporate entities trading in mass murder and human misery. For as long as these links continue, Cambridge cannot fulfil its pretensions to being ethically responsible, or a social leader."
North America
In 2003, after the death of Rachel Corrie, activists from Stop US Tax-Funded Aid to Israel Now (SUSTAIN) called for action against Caterpillar, until the company stopped supplying bulldozers to Israel.
Later that year, SUSTAIN members marched into the Caterpillar offices in Illinois and tried to make a citizen's arrest of the directors.
In 2004, Jewish peace activists in Nevada disrupted a Caterpillar sponsored safety award at Mine Expo in Las Vegas. Their banner read: 'What do Cat dozers make possible? Death and destruction for Palestinians and Israelis.'
In 2005, in the wake of Israel's' Operation Rainbow', activists in the US bought shares in Caterpillar and proposed a Shareholder Motion calling for the company to investigate whether its sale of bulldozers to Israel violates the CAT "good global citizen" code of conduct. The motion received a 3% vote in Caterpillar's shareholder meeting. At the same time, protests were held against Caterpillar in over 30 US cities.
Activists in New York protested outside the Waldorf hotel, where a Caterpillar executive was due to speak on a panel about Corporate social responsibility.
In 2010 activists disrupted the Caterpillar shareholder meeting in Chicago. Electronic Intifada reported:
"When a reporter asked [outgoing CEO] Owens during the question and answer session whether he was personally affected by stories that mechanics are being conscripted as soldiers or that disabled people were crushed to death when bulldozers collapsed their homes around them, he said, 'Absolutely. It's tragic. But we can't manage four million pieces of equipment out there… ' Owens hid behind the US Foreign Military Sales program, which handles the sales of the CAT machines to Israel. 'We're not in the business of international relations. You need to take it up with Washington,' Owens said."
Also in 2010, students at Olympia's Evergreen State College voted to ban the use of Caterpillar equipment on campus.
Shareholder activists returned to the Caterpillar General Meeting in 2011, as usual proposing a motion that the company stop selling D9s to Israel. This time, the motion got 21% of the vote.
In 2013, students in Seattle protested John Huntsman, former US ambassador who is on the board of Caterpillar, as he spoke at the University of Washington. The protesters demanded that Huntsman meet with the Corrie family, and that Caterpillar stop supplying bulldozers to Israel.
Later in 2013, protesters unfurled a banner proclaiming 'Divest from Israel's occupation: Free Palestine' at New York's Cornell University. They were protesting TIAA-CREF's investments in Caterpillar. The CEO of TIAA-CREF was participating in a panel event at the university. The investment fund had divested shares in Caterpillar from its Social Choice Fund the previous year, but still holds shares through its general fund.
In 2014, during Israel's murderous assault on the Gaza Strip in which over 1,400 Palestinians died, the Palestinian Boycott, Divestment and Sanctions National Committee called for action against seven companies, including Caterpillar.
In 2016, after a long campaign, Portland State University students voted to divest from Caterpillar and other companies complicit in Israeli state militarism. The resolution stated:
"That the Associated Students of Portland State University (ASPSU) calls on the university to put in place an internal investment screen which prohibits investment in any company that provides weapons or equipment used for violent acts that target either Israeli or Palestinian civilians; provides equipment used for the displacement of Palestinians from their homes or the construction and maintenance of illegal and unethical Israeli government authorised settlements; or supplies equipment used for the construction or maintenance of the Separation Wall in the West Bank and Jerusalem."
Legal Action
In 2005, four Palestinian families, together with the family of Rachel Corrie, took Caterpillar to court in the US.
The case, filed in Washington, accused Caterpillar of crimes under US and international law. The plaintiffs gave details of ten Palestinians who were killed and another six who were physically injured when Caterpillar bulldozers destroyed their homes. Rachel's mother, Cindy Corrie, said at the time:
"As we approach the two-year anniversary of Rachel's killing, my family and I are still searching for justice. The brutal death of my daughter should never have happened and our family condemns attacks on all civilians.

We believe Caterpillar and the IDF must be held accountable for their role in the attack on my daughter Rachel."
In 2007, the case was dismissed. The judge ruled that the court could not question the US government's policy of military aid to Israel.
The Corries also brought a civil case in Israel, trying to get justice for their daughter. It took over five years to be brought to trial. The Israeli judge ruled that the state bore no responsibility for Rachel's death.
As the verdict was released, a group of Palestinians in Gaza called on the international community to remember Rachel by supporting BDS.
Divestment successes
Here is a list of the funds and companies which have divested from Caterpillar since the beginning of the BDS campaign:
In 2017, the city of Portland's council voted to exclude Caterpillar from its investment, after campaigning by BDS activists.
In 2016, the Alliance of Baptists ruled out any new investments in Caterpillar.
In 2014, the Presbyterian Church (USA) voted to divest from Caterpillar. A member of the Presbyterian Israel/Palestine Mission Network commented:
"Because we are a historical peace making church, what we have done is, we have stood up for non-violent means of resistance to oppression and we have sent a clear message to a struggling society that we support their efforts to resist in a non-violent way the oppression being thrust upon them."
In 2012, Caterpillar's sale of D9s to Israel was a contributing factor to the company being delisted from an influential investment index.
This in turn led to two divestment victories: the international Quaker Friends Fiduciary Corporation announced that it would divest $900,000 from Caterpillar. TIAA Cref's socially responsible investment portfolio also divested $72m, but TIAA CREF's main fund still holds shares.
In 2010, the New England United Methodist Church placed Caterpillar on its divestment list.
In 2005-6, the Anglican Consultative Council and the Anglican General Synod voted to divest from Caterpillar over human rights concerns. The church invested £2.5m in Caterpillar.
Universities' involvement with Caterpillar in 2020
Sheffield Hallam, Loughborough and Cambridge all have relationships with Caterpillar.
A number of UK universities invest in Caterpillar. They are: Manchester, London School of Economics, Royal Academy of Music, Aberdeen and Glasgow.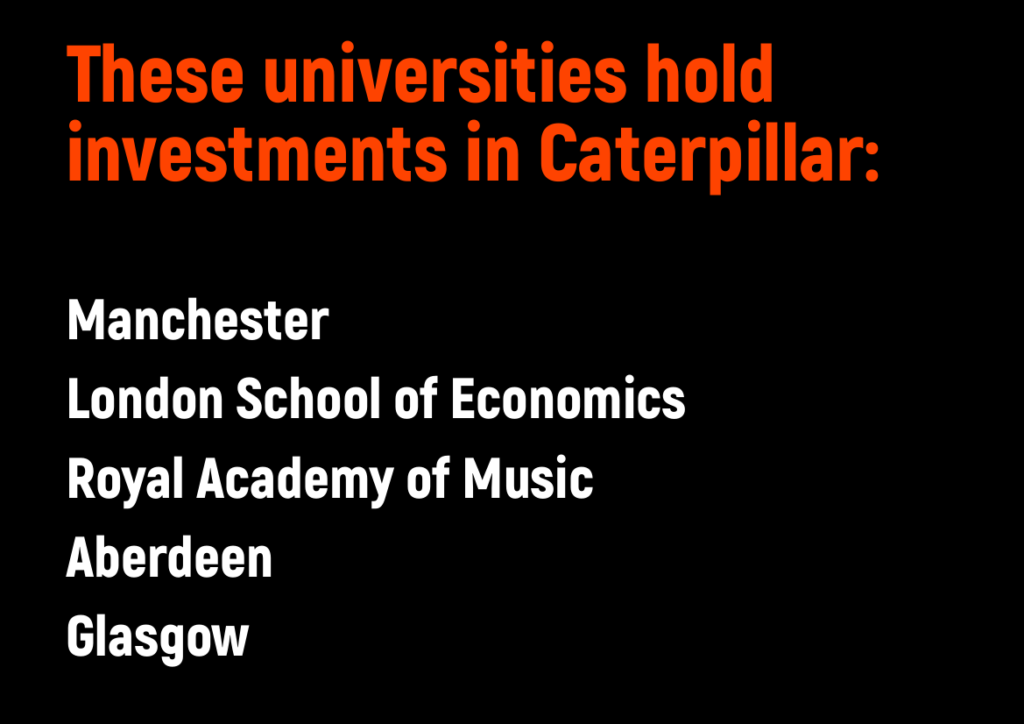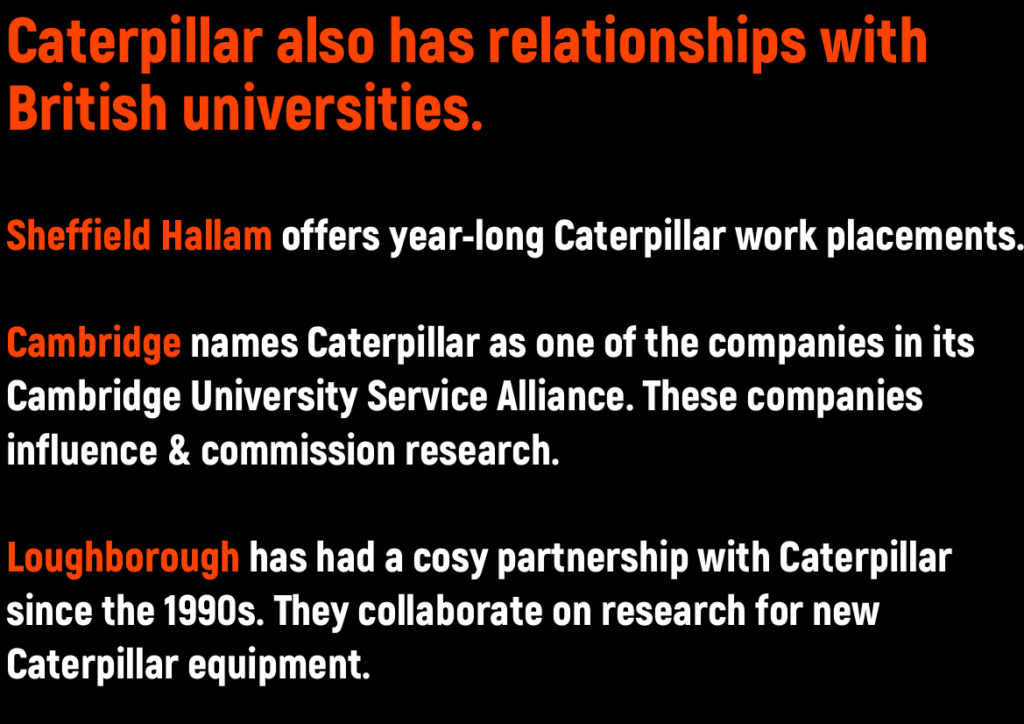 Take action against Caterpillar
• Protest outside Caterpillar's factories and Finning dealerships. Call on the company to stop supplying military bulldozers to Israel. Caterpillar must also end its relationship with Zoko Enterprises, and ensure that its bulldozers are no longer used in Israel's home demolition policy, settlement building and wall building.
• Call for investors to divest from Caterpillar. Protest outside your local HSBC and Barclays banks, calling for them to drop their shares in Caterpillar.
• Check that your pension is not invested in a fund that invests in Caterpillar.
• Do a Freedom of Information (FOI) request to find out where your local authority pension scheme is invested. Check that it is not invested in Caterpillar.
• Persuade your local council or university to demand that their contractors do not use Caterpillar equipment. Check out our article about UK university partnerships and investments in Caterpillar.
• Boycott Caterpillar branded footwear, clothing and toys. Protest outside shops that sell Caterpillar branded products.
This company profile was first published as part of Corporate Occupation's 2019 book, Resisting the Demolitions in Palestine: A Boycott, Divestment and Sanctions Handbook and updated for 2020.