By Tom Anderson & Therezia Cooper
Volvo and Caterpillar machinery carried out the illegal demolition of a historic building in occupied East Jerusalem on Sunday 9th January 2011[1]
(see photo here http://www.presstv.ir/detail/159400.html and video at http://www.alternativenews.org/english/index.php/topics/jerusalem/3165-video-shepherd-hotel-demolition-)[1]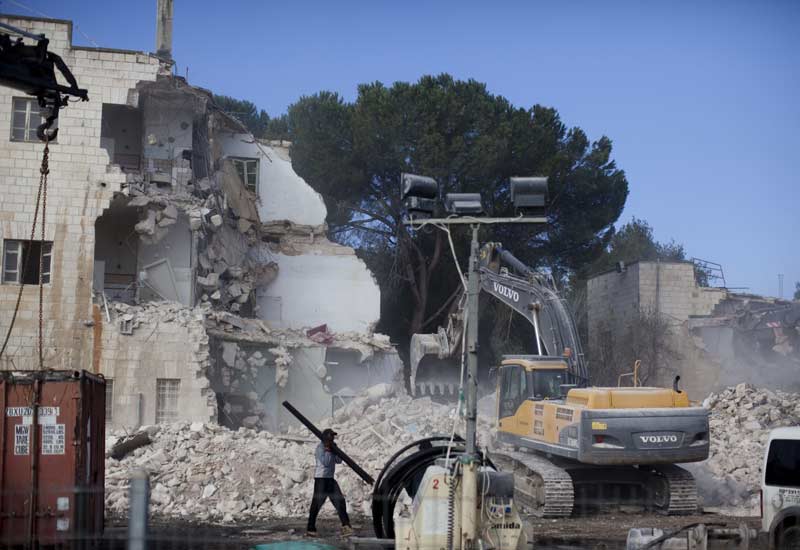 The Shepherd Hotel in Sheikh Jarrah, East Jerusalem,  constructed in the 1930s,  was once the home of the grand mufti of Jerusalem, Haj Amin al-Husseini.  It was confiscated by Israel in 1967.[2] The demolition was carried out on behalf of American millionaire, and supporter of  the Judaization (the ethnic cleansing of Palestinians in favour of Jewish colonisation) of Jerusalem, Irving Muskowitz, of the Muskowitz Charitable Foundation (http://www.moskowitzfoundation.org/).[3] 
Israeli and Palestinian activists have been protesting against the planned demolition since March 2010.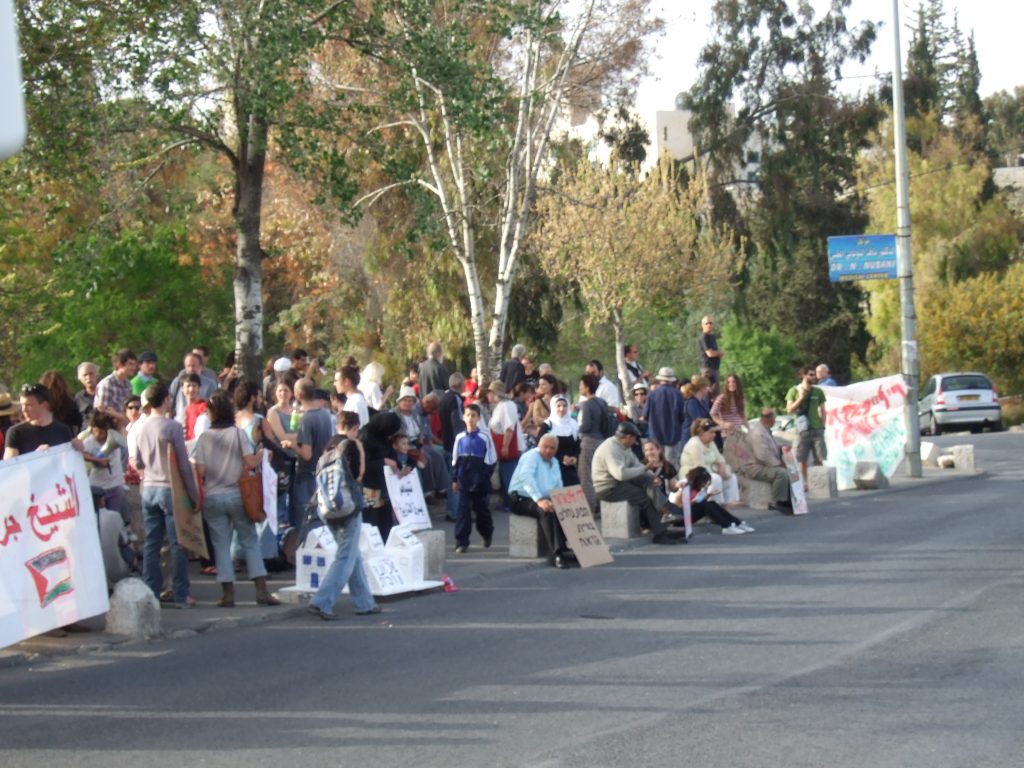 The hotel will be replaced by 20 homes exclusively for Jewish settlers.
Palestinian residents are being rapidly driven out of their homes in East Jerusalem; settlers have seized houses in the Sheikh Jarrah neighbourhood and carried out a campaign of harassment against local residents.[4] Israeli officials in Jerusalem have stated that more demolitions will take place soon.
During 2010 Volvo machinery was used to demolish Palestinian property in Al Araqib, Abu al Ajaj, Wadi Qadum, Beit Hanina, Silwan, Atir, Al Walaja and Atir.[5]
During December 2010 Volvo machines demolished Palestinian houses in Lydd, close to Tel Aviv, making 67 people homeless.[6]
CAT machines are regularly used in construction of the wall and settlements on occupied Palestinian territory, in military incursions in the West Bank and Gaza and in house demolitions. The company currently supplies manned and unmanned D9 military bulldozers to the Israeli army.[7]
Volvo's sole representative in Israel is Mayer Cars and Trucks.[8] Caterpillar's representative is Zoko Enterprises.[9]
The demolition of the Shepherd Hotel has been widely condemned, yet barely a word has been uttered against Volvo or CAT's complicity in the demolitions.
Bill Law, External Relations Director of Volvo Construction Equipment, in reply to questions from Electronic Intifada, said  that "there are tens of thousands of Volvo machines in operation across the world at any given time". He added, "We are not in a position to monitor how every one of our machines is used. Indeed both from a logistical point of view and a legal standpoint the company is not able to dictate exactly how every machine is used in the many countries in which they are operated, especially where machines may be used by second, third or even fourth generation owners. At the same time, within our sphere of influence, we have a strong commitment to corporate social responsibility. As a company we are involved in social issues, working together with everything from global organizations and universities to local authorities and citizens in order to contribute to a positive development on all levels."[10]
In fact, Volvo is, by now, fully aware of the destructive and illegal use its machines are put to in carrying out Israel's ethnic cleansing policies, house demolitions and constructing the apartheid wall and could easily refrain from accepting contracts from the Israeli state, military and settler organisations.
On 10th January Jan Wijenberg, former Dutch ambassador, wrote to AB Volvo and urged them to cease all dealings with the Israeli authorities.
The international movement for boycott, divestment and sanctions (BDS) has called for action against companies like Volvo and Caterpillar who generate profits by providing services to Israeli apartheid.
[1] Press Tv, EU Says Razing of Al-Quds Hotel Illegal, January 2011 – http://www.presstv.ir/detail/159400.html and Alternative Information Center, Video of the Shepherd Hotel Demolition, January 9th 2011 – http://www.alternativenews.org/english/index.php/topics/jerusalem/3165-video-shepherd-hotel-demolition- both viewed 11/01/2011
[2] See voice-over in Ibid
[3] Donald Macintyre, The Guardian, Historic Hotel Flattened for Settlements, 10th January 2011 – http://www.independent.co.uk/news/world/middle-east/historic-hotel-flattened-for-settlements-2180297.html, viewed 11/01/2011

[4] See, for example, International Solidarity Movement, Settlers Doggedly Intimidate Palestinians – http://palsolidarity.org/2010/12/16051/, viewed 11/01/2011
[5] Corporate Watch, Volvo Machines Use to Demolish Palestinian Homes, December 2010  – http://corporateoccupation.wordpress.com/2010/12/06/volvo-machines-used-to-demolish-palestinian-homes/ and Adri Nieuwhoff, Corporate Watch, Volvo Equipment Effective Tool in the Israeli Occupation of Palestine http://corporateoccupation.wordpress.com/2010/06/16/volvo-equipment-effective-tool-in-the-israeli-occupation-of-palestine/, both viewed 11/01/2011
[6] See Electronic Intifada, Home Demolitions in Lydd – http://electronicintifada.net/v2/article11716.shtml?utm_source=feedburner&utm_medium=feed&utm_campaign=Feed%3A+electronicIntifadaPalestine+%28Electronic+Intifada+%3A+Palestine+News%29, viewed 11/01/2011
[7] Who Profits, Zoko Enterprises – http://www.whoprofits.org/Company%20Info.php?id=707, viewed 11/02/2011
[8] Who Profits, Mayer Cars and Trucks – http://www.whoprofits.org/Company%20Info.php?id=798,  viewed 11/02/2011
[9] Op Cit
[10] Adri Nieuwhof, Indymedia Letzebuerg, Volvo Equipment Used in House emolitions (part Two) – http://www.indymedia-letzebuerg.net/index.php?option=com_content&task=view&id=63808&Itemid=28, viewed 11/02/2011
[11] Letter from Jan Wijenberg to AB Volvo, 10th January 2011 –  Volvo, international law and BDS