By Tom Anderson & Therezia Cooper
International high-tech companies Sagem (SAFRAN), Canon and Garrett have provided equipment to the Judea and Samaria police force in the occupied West Bank.
Researchers observing the police station in the illegal Israeli settlement of Shah Binyamin during January 2013 saw equipment manufactured by all three companies in use.
Police at Shah Binyamin processed detainees using fingerprint scanners manufactured by Sagem. The scanner was connected to the police computer system and was labelled 'Sagem Morpho touch'. The display on the police computer read 'AFIS'. The fingerprint scanner also bore a label which read 'AFIS'. AFIS stands for the Automated Fingerprint Detection System, marketed by SAFRAN.
Sagem was a major French company involved in arms, electronics and telecommunications. In 2005 the company merged with SNECMA to form SAFRAN. (Sagem's telecommunications companies, Sagemcom and MobiWire remained separate from SAFRAN).
SAFRAN is now a multi million Euro business headquartered in Paris. It specialises in arms and biometric systems.
Photos of detainees were taken using a Canon mounted camera system. The camera position and zoom was remotely adjustable through the police computer.
Canon is a Japanese multinational company listed on the New York and Tokyo stock exchanges. It specialises in cameras, camcorders, photocopiers and printers.
When entering and leaving the police station detainees walked through a Garrett 'Pinpoint' bodyscanner system.
Garrett Metal Detectors is a US based company that also provides metal detectors for bodyscanners in Israeli military checkpoints in the West Bank (see http://www.whoprofits.org/company/garrett-metal-detectors).
All three companies are complicit in facilitating the apartheid legal system in the West Bank. The Judea and Samaria police force, an Israeli police force operating in the West Bank created during the 1990s Oslo agreements, enforces a system of military law for Palestinian residents of the West Bank while Israeli settlers are governed by Israeli civilian law.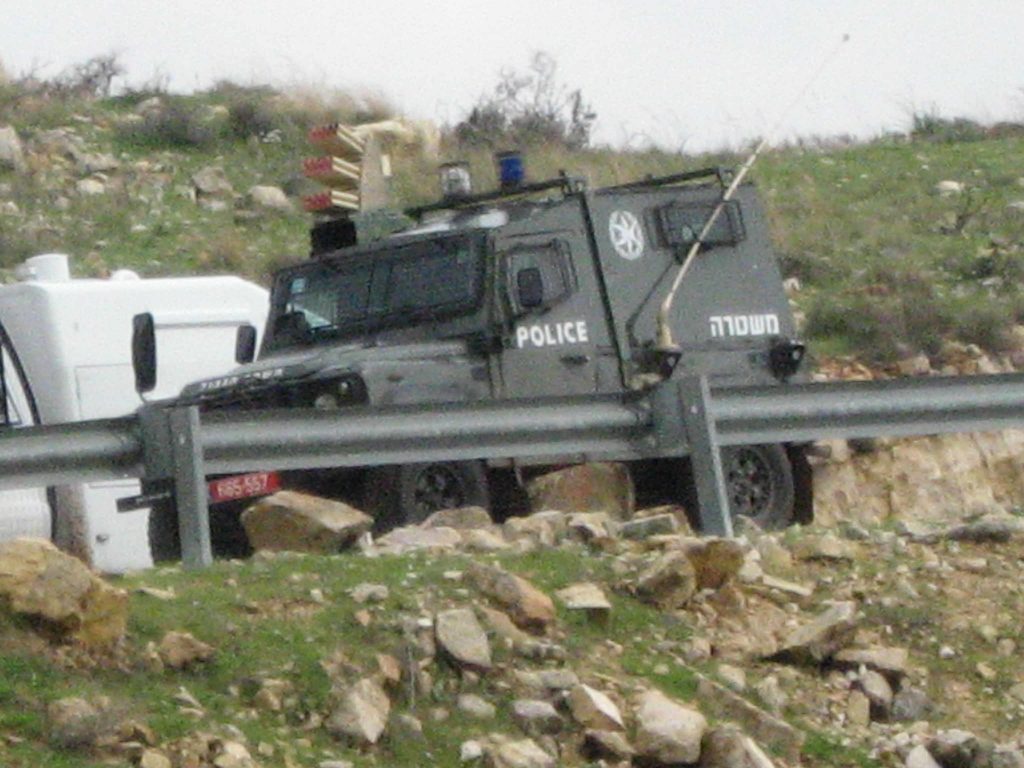 The military vehicle pictured at a demonstration in Nabi Saleh on 11th January 2013 is equipped with a Combined Systems multiple teargas launcher.