>
By Therezia Cooper & Tom Anderson
During January 2013, Corporate Watch conducted interviews with Palestinians who work in the illegal Israeli settlements in the Jordan Valley. Part one and two of our findings can be read here and here.
Ayman works in the illegal Israeli settlement of Na'ama. He comes from the Northern West Bank, outside the Jordan Valley. His work is arranged through a local Palestinian intermediary. He sets off for work at 3am through Tayasir military checkpoint. In Na'ama his work consists of planting tarragon, sage, mint, thyme, onions and chillies.
Na'ama is an Israeli colony that was set up on Palestinian land in the Israeli occupied West Bank close to the city of Jericho in 1982. According to Israeli human rights group B'tselem it has 92 inhabitants. To view a map of the area click here.
Ayman tells us: "in the morning we take the tractors from the kibbutz and work in the fields til 10am. Then we go to the packing house and sort the good crops from the bad."
The poor quality produce is exported to Russia while, if possible, the high quality produce is exported to western Europe.
Paid below the minimum wage
Palestinian workers in Israeli settlements have been entitled to the Israeli minimum wage since an Israeli Supreme Court ruling in 2007 (see here). In 2010 Corporate Watch conducted over 40 interviews with settlement workers showing that Palestinians are consistently paid as little as half the minimum wage. These conditions remained largely unchanged when we returned in 2014.
The current hourly minimum wage is 23.12, NIS (New Israeli Shekels),the equivalent of 184.96 NIS for an eight hour working day, having risen from 20.70 NIS in 2009. An Israeli government website advises that workers are also entitled to 14 days paid holiday and must receive a written contract and payslips from their employer (see here).
However, for Palestinian workers on Israeli settlements in the Jordan Valley these conditions seem an impossible dream.
According to Ayman: "I receive 65 NIS for an 8 hour day. My break is deducted from my pay packet. I don't receive any sick pay and the settlers don't pay hospital bills or provide me with health insurance. If you break machinery or lose tools the value is deducted from your wages. Trade unions are forbidden in Na'ama".
Workers deprived of their rights
According to Ayman the settlers in Na'ama ensure that workers do not remain at the settlement long term to avoid them gaining legal rights:
"The workers are only allowed to work in Na'ama for three years, after that they are asked to leave. This is because after three years the employees are entitled to an annual rise in pay."
Companies exporting from the settlement of Na'ama
Ayman tells us: "We put the herbs in boxes and label them 'Viva'. Sometimes the labels say produce of Na'ama, sometimes Jordan Valley. According to Ayman some of the goods from Na'ama are exported through Carmel Agrexco and some are labelled 'Viva'.
Viva is an Israeli export company which exports herbs and vegetables to Eastern and Western Europe and North America. Corporate Watch contacted Viva in May 2014 and asked them to confirm or deny that the company exported produce grown in settlements in the Jordan Valley. We have not received a response.
Carmel Agrexco was the Israeli state owned fresh produce export company. In 2011 the company went into liquidation, due in part to the international boycott movement. The brand has since been bought by Gideon Bickel of Israeli firm Bickel Flowers and has been fighting to regain lost contracts.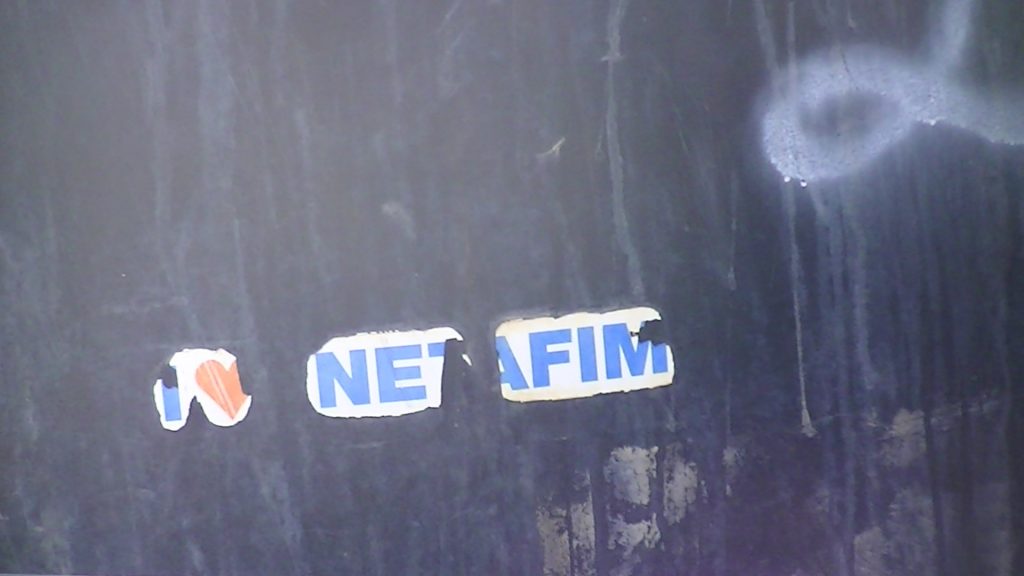 Products manufactured by Netafim and John Deere were also photographed  by Corporate Watch researchers on a visit to the settlement in January 2013.
Netafim is an Israeli company which supplies greenhouses and irrigation systems. It operates in 150 countries. To read more about John Deere's supply of products to Na'ama settlement click here.
Boycott, Divestment and Sanctions
Palestinians have called for a boycott of Israeli agricultural companies such as Agrexco and Viva and have clearly placed their struggle as part of the worldwide movement for food sovereignty.
A 2013 call to action from Palestinian activists reads:
"We urge organizations and activists upholding human rights principles and the right to food sovereignty to work with us to develop campaigns aimed at ending the trade in settlement produce. The most effective way of doing so is to follow the lead of the Co-Operative supermarket in the UK which decided in 2012 not to trade with any company that sources produce from Israel's illegal settlements. We call for an end to all trade with Israeli agricultural companies that are complicit with Israel's system of occupation, colonisation and apartheid.
"As the global food system has been shaped in the narrow interests of large multinational corporations, millions of farmers and indigenous people have faced exploitation and the destruction of their communities. We stand in full solidarity with all those who are also fighting for the right to their land and the freedom to make their own choices about food production, trade and social and environmental sustainability. Let us join together in a struggle against occupation and dispossession and for freedom, justice and equality."