By Therezia Cooper & Tom Anderson
Click here to read parts one, two and three.
This article tells the story of the Abu Zor family, who lost three family members after the Israeli military fired on their neighbourhood from a drone and F-16. Their story shows that Israel's practice of firing a warning shot from a drone before destroying homes does not prevent deaths of people not involved in fighting. The family want action from solidarity campaigners against the companies manufacturing the weapons that were used to target them.
Corporate Watch interviewed the Abu Zor family at their ruined home in the Zeitoun district of Gaza City. Their house had been destroyed in an Israeli F16 attack on 19th November 2012. The bombing came at 3am in the morning during the Israeli attack known as 'Operation Pillar of Cloud', which killed 255 Palestinians in eight days.
According to the Gaza based Al Mezan Centre for Human Rights 201 out of 255 of these people were killed by attacks from Israeli drones. When we met them in December 2013 they were still in the process of rebuilding their home.
As we speak to Hamad and Mohammed Abu Zor, their children gather to listen to the conversation. We learn that many of these children lost their mothers in the attack. We are encouraged to look at their scars and feel the soft patches in their skulls where they were crushed when the house's roof caved in on them, as if the family need to impress the reality of what happened on us.
For these young children, as for many people in Gaza,  being involved in telling the story of how they saw their loved ones killed has become a normal occurrence. A duty to make people aware of the real story of what happened to them.
Roof-knocking
Before the attack the Israeli army had fired on the neighbourhood with a drone, supposedly to warn people to leave the area. This practice of firing a warning shot from a drone has become known as 'roof-knocking'. In reality, roof-knocking is not really a way to protect life, but simply a way for Israeli commanders to avoid accountability by claiming that they did all they could to warn civilians.
In fact these 'roof knockings' are an added danger to those beneath the bombs and are not effective as a warning. In the Abu Zor family's case it had fatal consequences.
The 'warning'
Mohammed Abu Zor told us, "I was sleeping when the attack happened, when I fell asleep I could hear the sound of the rockets hitting the houses and the noise of the drones, I only slept for 10 minutes.
"I woke when the rocket hit. I heard my family scream, the house shook. I went upstairs to check on my brother's flat. I found it difficult to go inside because of all the smoke. I couldn't see anything."
Hamad Abu Zor told us, "my brother's home is next door, I was sleeping, my wife woke me up and said there was crying and screaming in the house next door. I went to check. When I got to the house of my brother he said they were attacked by a drone. They were leaving, I said: "don't go to a stranger, come and stay with me".
One person had been injured by the drone. A four and a half year old child called Mohammed Iyad.
"Everyone came to my house, all 26 of my brother's family. There were 37 people here in total with me and my brother's family."
The second attack
"Five minutes later the Azzam family, who lived next door to us, was targeted by an Israeli F16. We learnt later that they had been targeted because some of the family were part of the Qassam brigades [the military wing of Hamas].
"We could hear the noise of the F16 after we heard the strike. Then the power went off and the house collapsed. I couldn't see anything, all my family were shouting for me to get help, I found my wife under the rubble."
Three people were killed, two young women and the same child who had been injured five minutes before, the whole family was injured, 14 of them badly. the house was completely destroyed, along with many of the neighbouring houses on the street.
Mohammed tells us he went back to his house the next day: "the hole in the roof from the rocket was 5cm, then the floor below was 120cm, and the third one was 50cm, the remains of the rocket had penetrated into the ground and the walls were damaged on the ground floor".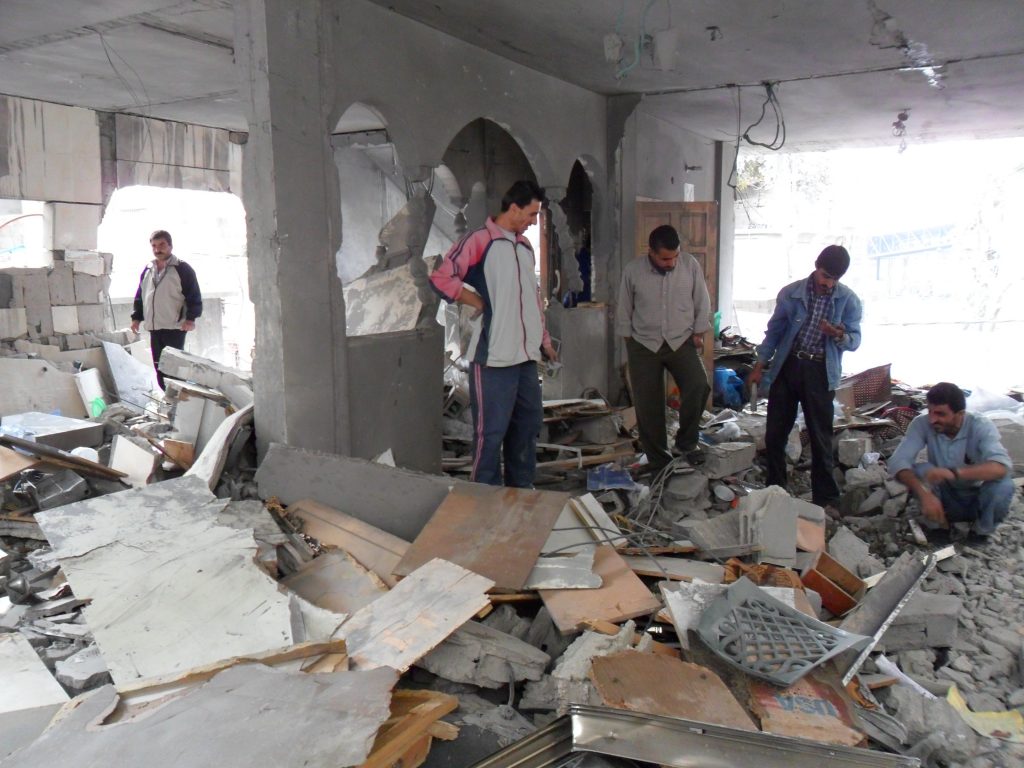 A family made homeless
The house where Mohammed lived, which had been targeted by the drone, cost $15,000 to repair and left the family homeless for three months. Hamad's house cost $75,000 to rebuild and they were homeless for eight months. The costs were partially covered by the United Nations Development Programme and the Palestinian government, but the rest was footed by the family.
No compensation was received from Israel. To watch videos of the family sorting through the wreckage of their wrecked home after the attack click here and here.
We asked the family what they thought about the companies manufacturing drones used by the Israeli army. According to Hamad: "These companies are committing a crime by supplying weapons to Israel. What had these kids done? They should be closed down or prevented from selling weapons to Israel".
A female family member who wanted to remain anonymous said:
"These weapons are being tested in Gaza on us. If they brought tanks to fight us they would lose but instead they bring warplanes. These kids now do not have a mother, if their father is sick, who will care for them, we do not need just words.

There is a big profit in it for Israel to market these drones. They want to be the strongest and selling these weapons helps them to do that. Other countries should not buy weapons from Israel. Israel wants war all over the world. We want these factories to be destroyed completely."
The companies behind Israel's drone strikes
The battlefields of Israel's militarism and occupation have proved effective testing grounds for new types of weaponry. Israel's constant state of warfare has ensured a reliable marketplace for Israeli arms manufacturers.
According to Drone Wars UK, surveillance drones were first used in Egypt in the lead up to the Yom Kippur War. The first recorded use of an Israeli drone to help piloted warplanes bomb targets (target acquisition) was in 1982 in the run up to the Israeli invasion and occupation of Lebanon.
According to the Al Mezan centre for Human Rights, the first recorded use of an armed drone by Israel was in 2004. The experience gleaned during years of military repression has made Israel the largest exporter of drone technology in the world. Israeli arms companies have sold drones to over 50 countries.
Israel's market leaders in drone technology are Elbit, a private Israeli company based in Haifa. Elbit have partnered with French company Thales to manufacture the Watchkeeper drone for the UK military. A list of the Watchkeeper programme's subcontractors can be found here.
Increasing deaths caused by drone strikes
The number of deaths (as a proportion of total deaths) caused by drone strikes has been increasing. The Gaza based Al Mezan Centre for Human Rights provided Corporate Watch with these shocking figures for the years 2000-2012:
| | | |
| --- | --- | --- |
| Year | Total recorded number of people killed by Israeli attacks in Gaza | Number of people killed by Israeli drones in Gaza (% of total) |
| 2000 | 123 | 0 (0%) |
| 2001 | 243 | 0 (0%) |
| 2002 | 472 | 0 (0%) |
| 2003 | 398 | 0 (0%) |
| 2004 | 646 | 2 (0.3%) |
| 2005 | 99 | 0 (0%) |
| 2006 | 534 | 91 (17%) |
| 2007 | 281 | 98 (34.9%) |
| 2008 | 769 | 172 (22.4%) |
| 2009 | 1058 | 461 (43.6%) |
| 2010 | 72 | 19 (26.4%) |
| 2011 | 112 | 58 (51.8%) |
| 2012 | 255 | 201 (78.8%) |
Take Action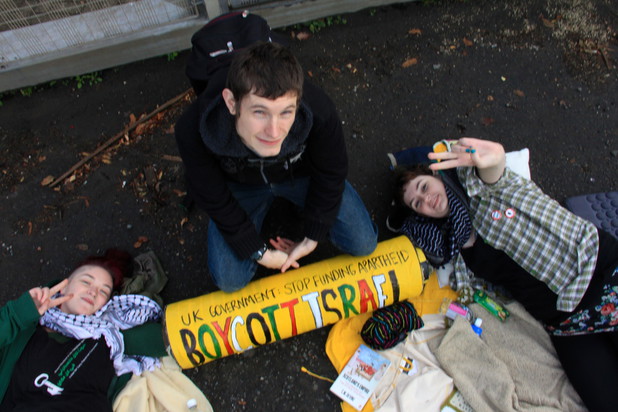 In September 2014, Glasgow Palestine Action occupied the roof of Thales' factory in Glasgow in protest against its involvement in the Watchkeeper programme.
Thales' UK locations can be viewed here.
A coalition of protesters have been organising protests outside Elbit's manufacturing facility in Shenstone, Staffordshire. In July this year, during the Israeli attack on Gaza, a group of activists occupied the Elbit factory there for two days, forcing the factory to shut down its business until police removed them from the roof. A demonstration is planned at the factory in Shenstone on Friday 17th October.
Elbit's UK locations can be viewed here.
In 2007 Elbit bought UK company Ferranti Technologies, based in Oldham, Manchester.
Testing of the Watchkeeper
The Watchkeeper is being tested at Parc Aberporth facility in Wales. Military testing is being carried out in Wiltshire at Boscombe Down. Campaigners in Wales have been protesting for years against the flying of drones at Parc Aberporth.
Two-way arms embargo
In 2011 a group of grassroots Palestinian groups called for a two-way arms embargo. This means that the call demands an embargo on arms sales to Israel and on purchases of weapons from Israeli companies until Israel abides by international humanitarian law.
The Palestinian Boycott National Committee wrote at the time:
"A comprehensive military embargo on Israel is long overdue. It would form a crucial step towards ending Israel's unlawful and criminal use of force against the Palestinian people and other peoples and states in the region and would constitute an effective, non-violent measure to pressure Israel to comply with its obligations under international law."
The campaign recognises that buying arms from Israeli companies fuels Israeli militarism and strengthens the occupation and siege. In the UK, there is a call from solidarity groups including War On Want for campaigners to pressure their representatives to support a two-way embargo: end all contracts with Elbit Systems and Elbit subsidiaries; end all arms trade with Israel; and suspend the EU-Israel Association Agreement and all EU research funding for Israel's arms companies.
Target the shareholders
The Palestinian civil society call for Boycott, Divestment and Sanctions demands action to persuade the investors in companies complicit in Israeli militarism to divest their shares. Barclays PLC is the named owner of over 50, 000 shares in Elbit Systems.
During the most recent Israeli attack on Gaza, in which 2,168 Palestinians were killed, campaigners held demonstrations and occupations of Barclays' bank branches all over the UK, including in London, Brighton, Manchester and Wrexham. An Avaaz petition calling on Barclays to divest gained nearly 2 million signatures. Russell Brand even weighed in. On 6 September 2014 campaigners in Wales held an occupation of a Barclays branch in Newport in solidarity with Gaza. Several people glued themselves to furniture inside the bank.
In the face of these growing protests against its shares in Elbit, Barclays has claimed that it only holds these shares "on behalf of clients and to hedge exposure against customer facing transactions".
This explanation doesn't get Barclays off the hook. The practice of 'hedging' is still a form of investment and in agreeing to purchase the shares in Elbit on the behalf of its customers the bank is ignoring the war crimes being carried out against people like the Abu Zor family using Elbit's equipment. Barclays have the power to divest and refuse to purchase shares for their clients in unethical companies like Elbit.
There is a need for further concerted action to persuade Barclays to change their position and to have nothing to do with shares in Elbit.