By Therezia Cooper & Tom Anderson
This is the sixth and final instalment in our series of articles focusing on what life is like for people in Gaza living beneath Israel's military drones. For more reading about the history and impact of drone use in Gaza, first hand accounts of drone attacks and information and ideas for action against drone manufacturers and investors in drone technology, see part one, two, three, four and five.
We met the Abu Zneid family in al Qarara, an agricultural village to the north of Khan Younis in the southern Gaza Strip in November 2013. We had been told about their story by professor Haidar Eid, a member of the Gaza steering committee of The Palestinian Campaign for the Academic and Cultural Boycott of Israel [PACBI] and a univerity lecturer.
When we asked if he knew anyone we could interview about Israeli drone attacks he said: "You need to hear what happened to this woman I was teaching, She was the most brilliant student I had ever had before she was killed by a drone in 2009".
The name of Haidar's sudent was Mather Abu Zneid. We interviewed her mum Mariam, dad Hammed, brother Ahmed and sisters Rida and Atheer at their home, about 1.5 km away from where the attack had happened on the 8th of January 2009, during Israel's brutal attack on Gaza, known as 'Operation Cast Lead'. The family's cousin, 30 year old Faten Abdelaziz Abu Zneid was killed at the same time.
The younger sister Rida told us the story:
"Faten came to our house in the morning and told us that it was not safe to stay as Israelis were killing people in the area. Two people in the neighbourhood had been killed during the night and when we heard that we got really scared and got dressed to leave. It was around 10am".
The three sisters, Mather, Rida and Atheer, their cousin Faten and mother Mariam quickly left the house to go and seek shelter with their uncle who lived close by, whilst the father Hamed decided to stay behind. As they walked down the road they were shot at by Israeli soldiers who had taken over some Palestinian houses in the border areas, but because they were walking next to a wall they managed to avoid getting hit and just kept on walking.
Mariam told us: "We were a group of women. There was no-one else there. We were not carrying anything. There was no reason to shoot at us".
Then suddenly, after hearing the loud buzzing noise of a drone, Mather and Faten, who were walking at the head of the group, were targeted by a missile. They were killed instantly.
Rida was only about three metres behind them and told us what she had seen: "The drone was very close and you could see the drone plane clearly. It has small wings and it had two small missiles on each wing", Rida said. "They fired two missiles. They were small. Around ten centimetres wide and", she measured with her hands, "maybe 25-30 centimetres long".
After the attack they had to wait for an ambulance for 20 minutes, as the Israelis had cut out all communication systems in the area. They later sought refuge in the al Qarara United Nations school building.
Mather's father Hamed said that when he heard the attack from their house he had an instinctive feeling that it had targeted his family. As he cycled to the scene on his bike he too was shot at by Israeli troops.
"When I got there I could see a hole in the ground from the impact," he said. "There were splintered fragments from the missile on the road. I ask myself every day why they were targeted, they did not have any weapons. We never got an explanation from the Israelis in writing, they just said that it was a mistake. No words can express the feelings we have daily. It is a puzzling thing".
Ongoing trauma
It is hard to imagine the horror of watching your relatives be killed in front of your eyes, and the trauma that both the attacks and the omnipresent drones cause to the people of Gaza is substantial. Although not everyone was physically injured, they have all suffered psychologically.
Rida told us that after the attack she was in shock and was unable to speak at all for three days and it was clear that even now, five years later, the family's life is affected daily by what happened. "We are still scared whenever we hear the drones" Atheer said. "Whenever we hear one over our garden, which happens all the time, we have to go inside".
During the latest Israeli attacks, this summer's 'Protective Edge' operation in which almost 2,200 Palestinians were killed, Atheer wrote to us saying that "they use the same planes and the same missiles and we are so terrified". This is reality in Gaza, the drones are always overhead and attacks can occur at any time with nowhere for families like the Abu Zneids to go.
According to the Center for Mind-Body Medicine, which runs programmes in the Gaza Strip, over one third of children in Gaza show signs of post traumatic stress disorder and UNRWA has estimated that symptoms have doubled since Israel's operation 'Pillar of Cloud' in 2012.
With largescale Israeli attacks happening more or less every two years, there is no time for people affected to get help, or to complete any treatment for the condition. In Gaza, the trauma is ongoing.
Down the drones
When Mather was killed in 2009 she had just finished studying English at the university, had worked as an teacher of English at the local UNWRA school for three months and had a bright future ahead of her. Mariam described her as a "respectful and moderate woman who never spoke haphazardly and with limitless ambition who never got to see how her life turned out".
More than anything the parents of Mather want answers to why their daughter was murdered, but the family also wants to see an end to weapons exports to and from Israel and welcome any action in support of a two way arms embargo.
Rida told us: "We are normal citizens. We are Palestinian, we want to live in peace with citizens in other countries. We want the rights that have been taken from us back". She had one clear message to the arms dealers making a profit out of their suffering:
"Why should they manufacture these weapons to kill innocent people? They should stop and close those factories. They only do it for the money. They get money and they cost our lives. If they only thought for a second about what these weapons can do they would stop. What do they feel when they see killed people on the TV? If they came over here and lived just one day in this area, and heard the bombing and the drones, what would they feel? I think they should live our experience".
Background information: Increasing deaths caused by drone strikes

The number of deaths (as a proportion of total deaths) caused by drone strikes has been increasing. The Gaza based Al Mezan Centre for Human Rights provided Corporate Watch with these shocking figures for the years 2000-2012:
| | | |
| --- | --- | --- |
| Year | Total recorded number of people killed by Israeli attacks in Gaza | Number of people killed by Israeli drones in Gaza (% of total) |
| 2000 | 123 | 0 (0%) |
| 2001 | 243 | 0 (0%) |
| 2002 | 472 | 0 (0%) |
| 2003 | 398 | 0 (0%) |
| 2004 | 646 | 2 (0.3%) |
| 2005 | 99 | 0 (0%) |
| 2006 | 534 | 91 (17%) |
| 2007 | 281 | 98 (34.9%) |
| 2008 | 769 | 172 (22.4%) |
| 2009 | 1058 | 461 (43.6%) |
| 2010 | 72 | 19 (26.4%) |
| 2011 | 112 | 58 (51.8%) |
| 2012 | 255 | 201 (78.8%) |
The companies behind Israel's drone strikes

The battlefields of Israel's militarism and occupation have proved effective testing grounds for new types of weaponry. Israel's constant state of warfare has ensured a reliable marketplace for Israeli arms manufacturers.
According to Drone Wars UK, surveillance drones were first used in Egypt in the lead up to the Yom Kippur War. The first recorded use of an Israeli drone to help piloted warplanes bomb targets (target acquisition) was in 1982 in the run up to the Israeli invasion and occupation of Lebanon.
According to the Al Mezan Centre for Human Rights, the first recorded use of an armed drone by Israel was in 2004. The experience gleaned during years of military repression has made Israel the largest exporter of drone technology in the world. Israeli arms companies have sold drones to over 50 countries.
Israel's market leaders in drone technology are Elbit, a private Israeli company based in Haifa. Elbit have partnered with French company Thales to manufacture the Watchkeeper drone for the UK military. A list of the Watchkeeper programme's subcontractors can be found here.

The Watchkeeper is being tested at Parc Aberporth facility in Wales. Miitary testing is being carried out in Wiltshire at Boscombe Down. Campaigners in Wales have been protesting for years against the flying of drones at Parc Aberporth.

Thales' UK locations can be viewed here.

Elbit's UK locations can be viewed here.

In 2007 Elbit bought UK company Ferranti Technologies, based in Oldham, Manchester.

Two-way arms embargo

In 2011 a group of grassroots Palestinian groups called for a two-way arms embargo. This means an embargo on arms sales to Israel and on purchases of weapons from Israeli companies, until Israel abides by international humanitarian law. The Palestinian Boycott National Committee wrote at the time:
"A comprehensive military embargo on Israel is long overdue. It would form a crucial step towards ending Israel's unlawful and criminal use of force against the Palestinian people and other peoples and states in the region, and would constitute an effective, non-violent measure to pressure Israel to comply with its obligations under international law."
The campaign recognises that buying arms from Israeli companies fuels Israeli militarism and strengthens the occupation and siege. In the UK, there is a call by a coalition of groups including War on Want for campaigners to pressure their representatives to support a two-way embargo; end all contracts with Elbit Systems and Elbit subsidiaries; end all arms trade with Israel; and suspend the EU-Israel Association Agreement and all EU research funding for Israel's arms companies.

Target the shareholders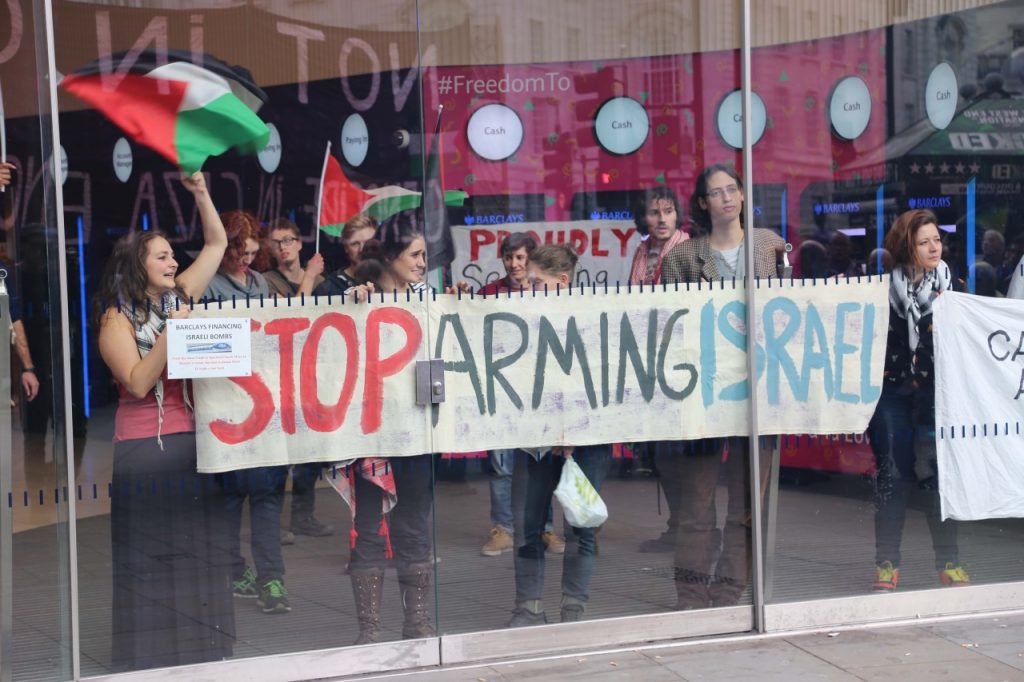 Protesters occupying a Barclays Branch last week during a Stop Arming Israel Day of Action.

The Palestinian civil society call for Boycott, Divestment and Sanctions demands action to persuade the investors in companies complicit in Israeli militarism to divest their shares. Barclays PLC is the named owner of over 50, 000 shares in Elbit Systems.
During the most recent Israeli attack on Gaza, in which 2,191 Palestinians were killed, campaigners held demonstrations and occupations of branches of Barclays bank all over the UK, including in Aberdeen, London, Brighton, Manchester and Wrexham. An Avaaz petition calling on Barclays to divest has gained nearly 2 million signatures.
On 6 September 2014, campaigners in Wales held an occupation of a Barclays branch in Newport in solidarity with Gaza. Several people glued themselves to furniture inside the bank, closing the branch for several hours. They were later found found not guilty.
Campaigners also staged an occupation of a Barclays branch in Brighton on October 11th. At a Stop Arming Israel day of action in November Occupations and demonstrations were held in Brighton Bradford, London, Leeds, Canterbury, Aberdeen, Edinburgh, Glasgow and Cambridge.
In the face of these growing protests against its shares in Elbit, Barclays has claimed that it only holds these shares "on behalf of clients and to hedge exposure against customer facing transactions". This explanation doesn't get Barclays off the hook. The practice of 'hedging' is still a form of investment and in agreeing to purchase the shares in Elbit on the behalf of their customers the bank is ignoring the war crimes being carried out against people like Abdullah and Ebtihaj using Elbit's equipment.
Barclays have the power to refuse to purchase shares for their clients in unethical companies like Elbit. There is a need for further concerted action to persuade Barclays to change their position and to have nothing to do with shares in Elbit.