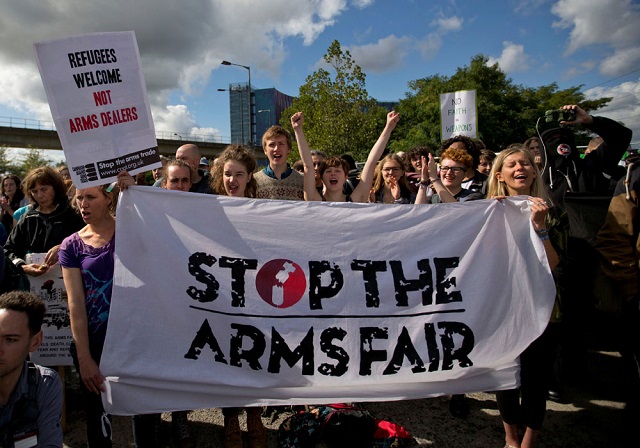 This is the third of a three-part Ceasefire series of essays on the war on Yemen, published ahead of next week's DSEI, the world's biggest arms fair, which will take place on September 12th-15th. In part one, Tom Anderson writes on the geopolitical roots of the crisis. In part two, Safa Al-Shamy offers a personal firsthand account of the impact of the war on her country's civilian population.
---
Angry protests are set to greet the DSEI arms fair due to be held in London's Docklands next week, with opponents aiming to physically stop it being set up. London-based campaign group, Campaign Against Arms Trade (CAAT), is demanding that the event, which has been staged at the venue every two years since 2001, be closed down.
Spokesman Andrew Smith told us:
"DSEI is a moral abomination that brings the biggest arms companies together with some of the most deadly and abusive regimes. DSEI fuels and supplies war, conflict and repression around the world. The arms being promoted may be used in atrocities for years to come. We have no idea where these weapons will end up or who they will be used against. Arms fairs like DSEI couldn't happen without the direct support from civil servants and government ministers. They cannot be reformed or improved, they must be stopped."
Stop The Arms Fair, a network of groups opposing the arms fair, is urging people to prevent it from taking place by blocking the set-up ahead of the official opening. They say on their website: "When London plays host to one of the world's largest arms fairs, war, repression and injustice start here."
As is often the case when it is the party of opposition, the Labour Party has been paying lip-service to concerns about DSEI.

Mayor of London Sadiq Khan said on June 22 that the Defence and Security Equipment International (DSEI) arms fair "is not an event that I support".
He added: "I am opposed to London being used as a market place for the trade of weapons to those countries that contribute to human rights abuses".
And yet, London's mayor is not actually planning on taking any action, stressing that because the venue, ExCeL London at Royal Victoria Dock, was "a commercial space for hire" he did not have the power to stop the arms fair from taking place between September 12 and 15 2017.
Meanwhile, worries over the impact of Britain's arms exports have been hitting the headlines recently, with opposition leader Jeremy Corbyn calling, on July 1, for the Government to suspend weapons sales to Saudi Arabia in the light of the humanitarian disaster in Yemen.
More than 10,000 people have been killed there, and at least 40,000 injured, since March 2015, mostly from Saudi-led air strikes, according to the United Nations.
But Conservative Party ministers are not even pretending to care about the ethical issues around DSEI. Instead, they are queuing up to give "keynote addresses" at the event. Liam Fox, Secretary of State for International Trade, will be talking at 12.30pm on Tuesday September 12; Sir Michael Fallon, Secretary of State for Defence, will be giving a speech the next day at 2pm and Ben Wallace, Minister of State for Security, will be addressing arms fair attendees on the Thursday, at 12.30pm.
Moreover, the Government's Department for International Trade Defence & Security Organisation (DIT DSO) is actually jointly organising DSEI 2017, alongside private company Clarion Events. The Ministry of Defence is further listed as one of DSEI's main supporters.
Back in 1961, US President Dwight Eisenhower warned in a speech of the dangers of a "military-industrial complex" emerging, where governments and the arms trade grow too close to each other.
Critics such as CAAT claim that links between the UK Government and the arms industry are today becoming alarmingly intertwined, with DSO at the heart of this process.
Although it is funded by the UK taxpayer, DSO's sole purpose, as a subdivision of the Department for International Trade, is to help arms and security businesses make more profits by selling their products around the world.
CAAT says: "DSO is not interested in the human impact of the equipment it promotes. It exists purely to help the companies sell".
Working closely with DSO, and another main supporter of DSEI, is a private organisation called ADS, which describes itself as the "Premier Trade Organisation for companies in the UK Aerospace, Defence, Security and Space Sectors" and claims to represent 1,000 businesses. In other words, this is basically a lobbying group for the arms industry, which openly boasts of its influence on government policies and explains: "ADS works across Whitehall to influence Ministers, Government, Departments and their agencies about the value and needs of our sectors".
The two "platinum sponsors" of the 2017 DSEI arms fair are BAE Systems and General Dynamics.
BAE Systems is the world's third largest arms producer, with military customers in more than 100 different countries. Its fighter jets have been used by the Saudi regime to bomb schools and hospitals in Yemen, as well as by the Turkish and Israeli states against Kurdish and Palestinian civilians.
General Dynamics is a US-based corporation whose Canadian business has signed a controversial $15 billion arms deal with the Saudi regime.
DSEI organisers say they are expecting more than 34,000 attendees at the 2017 event. The vast majority of these will be customers or, as they put it, people "involved in the purchasing process".
The arms and security trade's customers are governments – the last DSEI arms fair, in 2015, welcomed delegates from 121 different countries, largely government officials in addition to military and police personnel. In 2017, the fair organisers expect to welcome more than 255 "programmed delegations", along with at least 2,874 additional domestic and international delegations.
It's not just war that is profitable for the arms firms exhibiting at DSEI – internal repression is also a useful source of income.

DSEI boasts that its 2017 "Security Zone" will showcase security and special forces training, tactical equipment, perimeter security, covert and overt surveillance, camera equipment and PPE – "protective" equipment such as police riot gear.
The arms industry makes a point of asking no questions about how their weapons, tools of repression and surveillance systems are used by their international clients.
At last year's BAE Systems AGM, chairman Sir Roger Carr insisted that Saudi Arabia was an entirely appropriate customer for BAE's weapons and services, despite its bombing of Yemen. He said: "We are not here to judge the way that other governments work, we are here to do a job under the rules and regulations we are given."
The Saudi delegation is likely to, once again, be eagerly courted by arms dealers at DSEI this September. This will also be the case for the delegation from the Israeli government, which spends $17.8 billion a year, a massive 5.8% of its GDP, on weapons, and maintains a violent, militarised occupation of Palestinian territories.
Of course, the UK itself is a big military player, spending £45 billion a year on what it terms "defence", and has been directly involved militarily in Syria, Iraq, Libya and Afghanistan.
The UK's main ally, the USA, has the world's biggest military spend of more than $600 billion a year, and uses its network of hundreds of military bases in no fewer than 80 different countries across the world to physically impose its global power.

Other countries which attended the last DSEI and are expected to attend again this year include:
Turkey, whose fighter jets have bombed Kurdish people within its own borders, in Iraq and in Syria; and which has been accused of frequent human rights abuses.
Egypt, where, in the words of Human Rights Watch, President al-Sisi's government is currently "consolidating and escalating repression"; while the regime's blocking of news websites has been described by Amnesty International as an "onslaught against media freedom".
Azerbaijan, a notoriously repressive regime run by the authoritarian Aliyev dynasty, which crushes all internal dissent and has been making repeated military threats against neighbouring Armenia.
Kazakhstan, which has been engaged in continuous suppression of freedom of the press and of assembly and has been described as "a model case for the global double trend of rising authoritarianism and shrinking civic space".
Algeria, which has a poor human rights record. In Algeria, "Authorities curtail free speech and the rights to freedom of association, assembly, and peaceful protest. They also arbitrarily arrest and prosecute political and trade union activists," report Human Rights Watch.
Bahrain, where the authorities recently launched a new crackdown on dissent, including a resumption of executions. Warned UN investigators: "The authorities have resorted to drastic measures to curb dissenting opinions such as torture, arbitrary detention, unfounded convictions, the stripping of citizenship, the use of travel bans, intimidation, including death threats, and reprisals for cooperating with international organizations".
A coalition of groups are planning to take action against the DSEI arms fair. Their slogan is 'War starts here, let's stop it here'. The week of action will be focused on stopping the event from taking place by preventing the deliveries of weapons to the ExCeL centre in London's Docklands.
Actions are taking place from 4-11 September, with a big protest planned on Saturday the 9th. Go to www.stopthearmsfair.org.uk to find out how to get involved.