By Eliza Egret and Tom Anderson
The number of Palestinians who have been killed or maimed in Gaza during the Great Return March protests continues to rise. The death toll currently stands at 119, and more people have been shot or injured in the West Bank.
Yesterday, on the 23rd May, Uday Abu Khalil died from his wounds after a sniper shot him in the stomach at a Ramallah demonstration on Nakba day, the date Palestinians remember the Zionist ethnic cleansing of Palestine in 1948.
Meanwhile, Elbit Systems, Israel's most profitable arms company, continues to expand.
Elbit is in the final stages of buying Israeli state-owned IMI Systems. As IMI is the sole distributor of small caliber ammunition to the Israeli Forces, its bullets will have been used to shoot protesters in Gaza and the West Bank. We found an unused IMI bullet on the ground near to Nahal Oz military base, close to the Gaza fence, during the Great Return March.
Nahal Oz is a strategic base for the Israeli Forces, and a number of Palestinians have been shot from this area. There was international outrage in April when a photo was circulated on social media of young Israeli people using a Nahal Oz watchtower to view the Israeli military shooting at Palestinians.
IMI Systems also produces artillery rocket systems, air to ground weapons, as well as tank and artillery ammunition.
Last month, Elbit opened an office in Berlin. It also bought US company Universal Avionics Systems, which has three buildings in the US and one office in Switzerland. Elbit CEO Bezhalel Machlis stated that the company is keen on expanding even more, and told Reuters, "Our target markets are the United States, Europe, Australia…We are continuing to look for acquisitions."
Despite opposition in Australia, Elbit has recently completed a delivery of thermal weapons sights to the Australian military. In September, the company plans to participate in the 'Land Forces Expo' in Adelaide, hoping to gain further contracts in Australia.
Since 2016, Elbit has also profited from running a flight training school in Lincolnshire in the UK, partnering with the Ministry of Defence (MOD) to train British pilots. The company has also entered into an agreement with Babcock International, a British multinational, to establish a joint company to deliver another training programme to the MOD.
In response to Israel's recent brutality, the Palestinian BDS National Committee has reiterated that:
"Strengthening, mainstreaming and popularizing Palestinians' call for a two-way military embargo on Israel is the most effective response to Israel's ongoing massacre. This means working to end all weapons sales and purchases to and from Israel, and ending military or police partnerships with the Israeli state."
Resistance to Elbit Systems continues to grow internationally. French activists have taken action against AXA, demanding that it divests from Elbit.
Actions took place at three Elbit-subsidiary arms factories in the UK earlier this month, with activists blockading the sites. Instro Precision, an Elbit company, was shut down for the day when a woman locked herself to the gates of the factory, blocking vehicle access, whilst a group occupied the compound and others held a demonstration outside.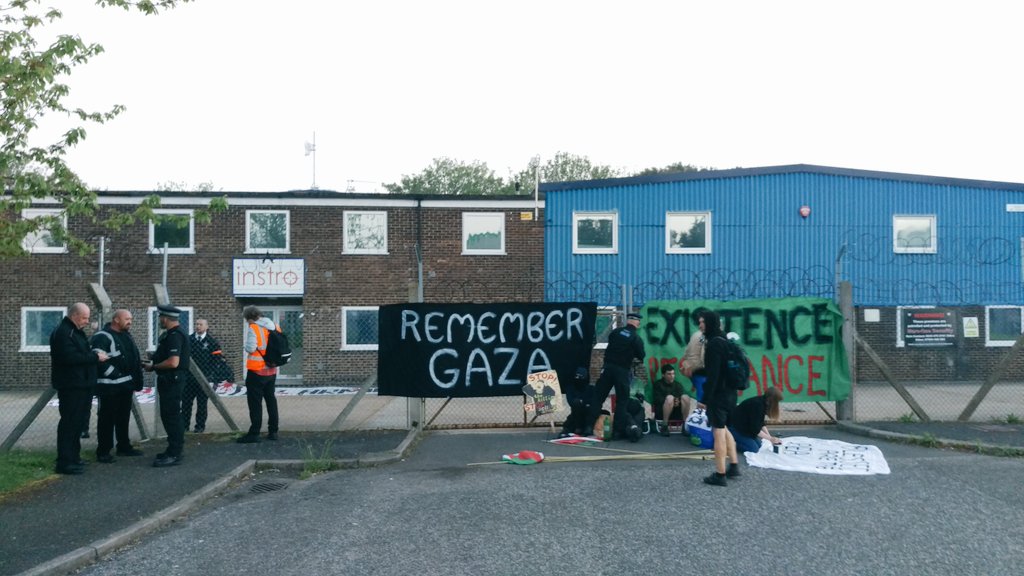 Susannah Mengesha, who took part in the action, stated:
"Elbit commodifies the murder of Palestinian people on an industrial scale. Every day that their factories remain open will have a civilian cost. A direct line can be drawn from the manufacturing processes in factories such as Instro Precision to Israeli war crimes. I refuse to believe that the lives of people in places like Gaza are worth any less than those elsewhere. My heart goes out to the mothers in Gaza, who surely have suffered more than most in the last few weeks and years. I want to tell them that the people here do not consent to these factories being here, and we will do all we can to stop them."