Jaffa is a well-recognised global brand for the export of Israeli citrus fruit.
The Jaffa brand name is owned by the Citrus Marketing Board of Israel, an
Israeli government institution.[1]
Mehadrin is a leading supplier of fruit exported under the Jaffa brand.[2] We have found that Mehadrin exports fresh produce from Israel's illegal West Bank colonies (see page 26). Galilee, Arava, AG Ankor International, and Miriam Shoham also export fruit under the Jaffa Brand.[3] All of
these companies export produce from Israel's colonies (See pages 33, 39, 48, and 32).
Importing Jaffa-branded produce to Europe
Spanish multinational AM Fresh (previously called AMC) deals in fresh fruit exported from Israel under the Jaffa brand.
AM Fresh also produces drinks 4 and 'Free From' products in the UK. The company has just opened a new facility in Skelmersdale where it is producing yoghurts for the Rebel Kitchen brand, as well as soups for the Bol brand. The same site supplies juices to Sainsbury's, and for the Waitrose 'Truly Scrumptious' range of lemonades.[5]
Jaffa in the UK
AM Fresh owns AMT Fresh, based in Newmarket, which represents the Jaffa brand in the UK.[6] The company exclusively supplies Tesco with fresh fruit and juices.[7] AMT Fresh is marketing the Jaffa brand heavily. The company sponsored the July 2019 Netball World Cup in Liverpool.[8] Other sponsorships include England Hockey, England Netball, and British Canoeing, and even badges for the Scouts.[9]
AM Fresh also owns MMUK, a subsidiary which supplies citrus fruit to major UK retailers. [10] MMUK boasts that it works 'closely with Jaffa'.[11]
Jaffa in France
In April 2019, Corporate Occupation saw Israeli red grapefruit, under the Jaffa brand, being sold in Carrefour in France.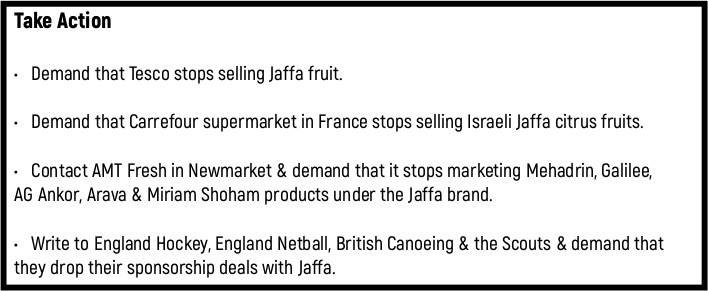 Contact AM Fresh
UK
AMT Fresh
Fordham Road, Newmarket, Suffolk, CB8 7NR, info@amtfruit.com Tel: +44 (0)1638 722800
MMUK
Frans House, Fenton Way, Chatteris PE16 6UP
info@munoz.co.uk Tel: +44 (0)1354 697600
Spain
AM Fresh Group
Ctra. Madrid-Cartagena, km 390, 30100 Espinardo-Murcia
info@amunoz.com Tel: +34 968278200
AM Fresh Iberia
C/ Puerto de Morcuera 3-5, 28919, Leganes, Madrid
AM Fresh also has operations all over the world. Go to amfresh.com to see the other locations.