In our opinion, Galilee Export is an important target for the international boycott movement. The company is now Israel's second biggest agricultural company after Mehadrin[1] and supplies UK supermarkets with fresh fruit.
Galilee is one of the biggest Israeli citrus fruit growers[2] and is the biggest exporter of green-skinned avocados in the world.[3]
The company was founded in the wake of the liquidation of state-owned agricultural exporter Carmel Agrexco.[4] Agrexco's collapse was partly as a
result of a worldwide boycott campaign. Galilee Export Cooperative was created in 2011 as a partnership between Milouot Corporation and Citrus
of Galilee. In 2017 Avocado Gal Packing House joined as a co-owner. Galilee reportedly owns 9,000 hectares of land.[5]
The company produces avocados, citrus fruit, mangoes, Medjoul dates, pomegranates, Sharon fruit (persimmons), grapes, sweet peppers, carrots, lychees, peaches, and nectarines.[6]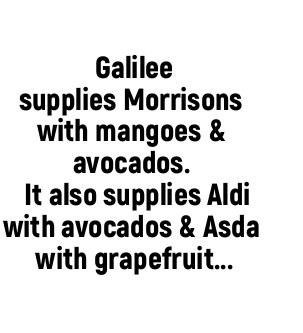 Targeting Europe
Galilee concentrates on exports to Europe. In 2015 the company opened a new ripening room in Cavaillon, southern France, in order to supply European supermarkets with ripe avocados. "We now have arrangements with supermarkets to provide avocados year-round," Ely Keslassy of Galilee stated.[7]
In 2018, Galilee reported that it exports its Sharon fruit to 'high-end' UK supermarkets.[8] The company has also moved into the export of organic fruit, in order to maximise its profits.[9]
Industry press reported in 2019 that Galilee was planning to expand into new markets in Europe.[10] Galilee is one of the largest Israeli exporters of Medjoul dates.[11] It has been pushing the sale of Galilee Medjoul dates in Europe.[12]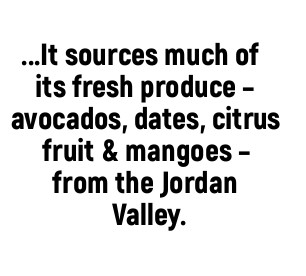 In late 2019, Yoav Nakash of Galilee stated that the company supplies pomegranates to "almost every supermarket in Germany." He continued: "Our main export market is Europe in general. We work with the UK and have clients in France, Italy, and even Spain…"[13]
Corporate Occupation has photos of Galilee produce in Aldi, Asda and Morrisons supermarkets.
It is highly likely that the company also supplies the other major European supermarkets.
Exporting from Jordan Valley settlements
In 2019, industry press reported that Galilee avocados came from the Jordan Valley (in the West Bank), as well as from the Galilee region inside Israel's 1948 borders.[14] Israeli industry press also confirms that some of Galilee's dates, citrus fruit and mangoes are sourced from the Jordan
Valley. [15]
During summer 2018, Corporate Occupation researchers photographed Galilee Medjoul dates on sale in a shop at the illegal settlement of Tomer in the Jordan Valley. The labelling on the boxes showed that the dates had been packed inside Naomi settlement in the occupied Jordan Valley
in the West Bank.[16]
Contact Galilee
galilee-export.com
galilee@galil-export.com
tel:+972 3 653 9011
facebook.com/GalileeExport
Galilee has a branch in Paris and a ripening room in southern France.