Brousse Vergez
Brousse is a French company with a German subsidiary, supplying France and Germany's supermarkets with dried fruit. Brousse products can be found in French supermarkets such as Carrefour.
In the summer of 2018, we photographed French company Brousse's packaging for organic dates in a central refrigeration unit on land owned by the settlers' Regional Council of the Jordan Valley.
Brousse's website states that its Deglet Nour dates are sourced from Israel,[1] and that its Medjoul dates are from "both Israel and Palestine." [2] Brousse also states that its organic Medjoul dates are from Israel.[3]
We contacted Brousse twice, telling the company that we had seen its packaging in a settlement. We asked for a comment, but received no reply.
Contact Brousse
brousse-vergez.com/en/
+33 4 88 66 08 80
brousse-vergez.com/en/contact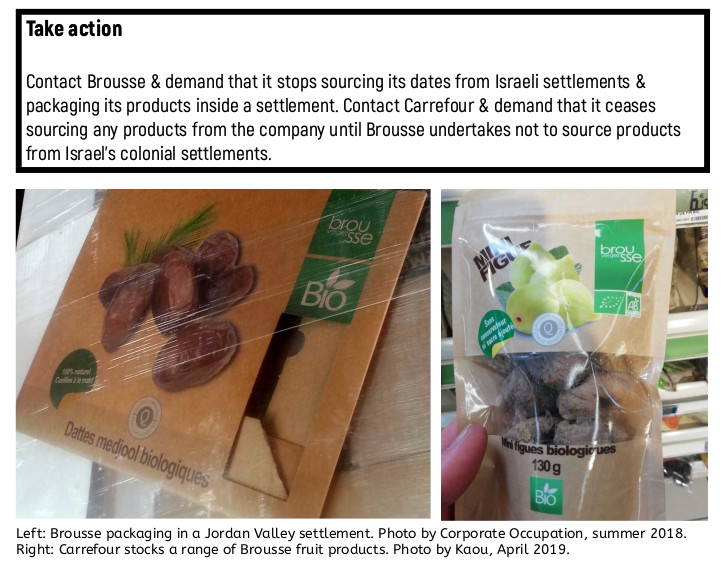 Fratelli Orsero
Fratelli Orsero is an Italian company supplying European supermarkets with fruit & vegetables. We photographed Orsero's packaging in Argaman settlement in summer 2018.
The packaging shows that the company is importing citrus fruits sourced from Mehadrin. It also states that Orsero citrus fruits are being imported to Italy by Italian company Fruttital Service.
The box is labelled 'Origin: Israel', despite the fact that it was packaged in Argaman settlement in the West Bank. This seems like a breach of European legislation on the labelling of goods from the Occupied Territories, in order to take advantage of the beneficial terms of the EU-Israel Association agreement.
Fratelli Orsero's website states that the company closely manages and controls its supply chain,[1] meaning that it is fully aware that it sources products from illegal settlements.
We emailed Fratelli Orsero a number of times, asking the company to comment, but received no reply.
According to its website, Orsero distributes produce "in every corner of the globe, through a network of over 1,500 suppliers in more than 70 countries."

Contact Fratelli Orsero
fratelliorsero.it
commerciale@orserogroup.it
+39 0182 560400
facebook.com/FratelliOrsero
instagram.com/orsero
twitter.com/FratelliOrsero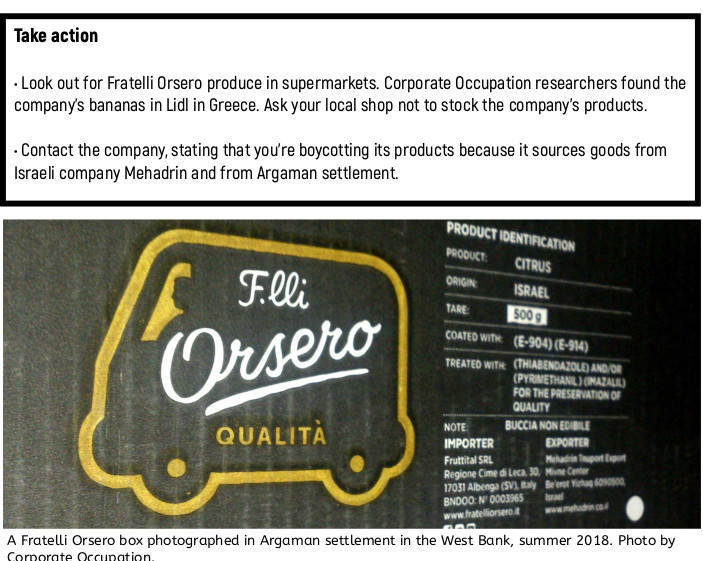 Sahara Gold/International Golden Foods
We found packaging for Sahara Gold Medjoul dates in the illegal Jordan Valley settlement of Na'ama during our visit in 2018.
Sahara Gold dates are marketed by International Golden Foods in Illinois in the US.[1]
International Golden Foods boasts that its product lines are "sold in supermarkets and retail facilities throughout the USA".[2] It has premises in Illinois with 15 staff. 3 Retailers supplied by International Golden Foods include Costco, Fresh Farms International Market, Mariano's Fresh Market, Valli Produce, Shop&Save Market, Pepe's Inc and Pete's Fresh Market.[4]

Contact Sahara Gold
goldenfood.com
info@goldenfood.com