Greenyard Fresh
Greenyard Fresh, part of the Belgian corporation Greenyard Group, is a global leader in importing fresh fruit and vegetables and supplying them to supermarkets. It boasts: "Of the world's 20 largest food retailers, 19 count on us every day for a steady and high-quality supply of fresh produce to their stores."[1]
Greenyard Fresh UK states on its website that it sources avocados from Israel.[2] It also gets mangoes, persimmons (Sharon fruit), pomegranates and figs from Israel.[3] In December 2019, we photographed Israeli Greenyard Fresh figs in Morrisons supermarket.
Importing dates from the occupied Jordan Valley
Greenyard Fresh gets its dates from Israeli company Hadiklaim and supplies them to Morrisons. In December 2019, Corporate Occupation researchers photographed Morrisons' own-brand Deri dates marked 'Greenyard Fresh Ltd/Hadiklaim'.
Hadiklaim sources many of its dates from the Israeli occupied Jordan Valley (see page 36).
In 2018, Greenyard Fresh bought a stake in Mor International (see page 38). In summer 2018, we spotted Mor's date packaging in the illegal settlement of Na'ama.
Contact Greenyard Fresh
In early 2019, Greenyard Fresh opened six new ripening rooms in Spalding, UK, in order import avocados and other fresh fruit.[4] You can find Greenyard Fresh UK at:
Stephenson Avenue, Spalding, Lincolnshire PE11
greenyardfresh.co.uk
facebook.com/GreenyardGroup
A full list of Greenyard Fresh's locations worldwide can be found on the website:
greenyard.group/divisions/fresh/locations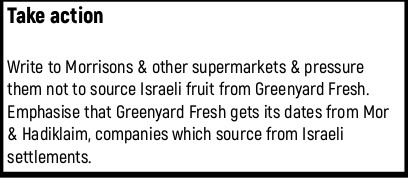 There are a number of other UK importers and packing houses supplying British supermarkets with Israeli produce. It is important to contact these companies and explain that by importing fresh produce from Israel and Israeli settlements, they are complicit in upholding the occupation. If these import companies were to make new rules regarding sourcing from Israel and the settlements, this would have a massive impact on the amount of Israeli produce we see on supermarket shelves.
IPL
IPL sources fresh produce specifically for Asda, and is part of the Asda and Walmart family of companies.[1]
One of the largest importers of fresh produce in the UK,[2] IPL has relationships with many Israeli export companies, ensuring that their produce is stocked on Asda's shelves.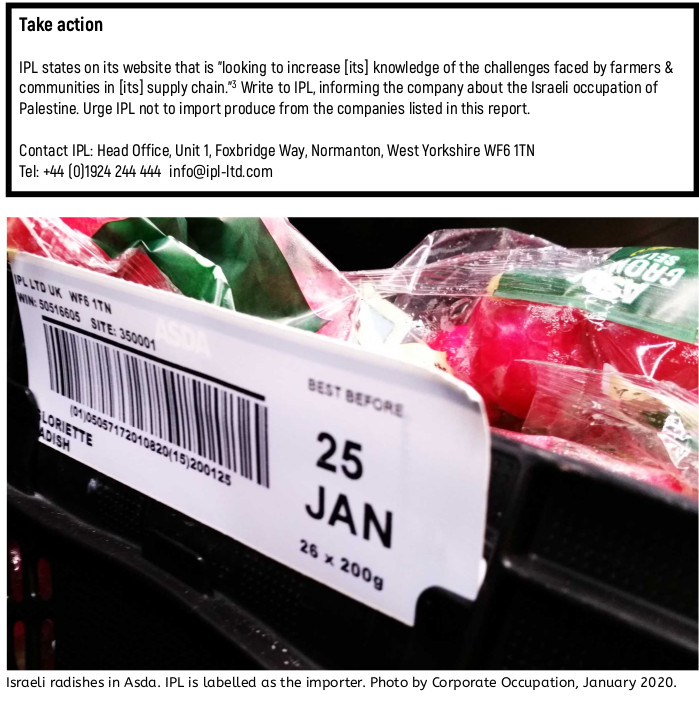 Watts Farms
Watts Farms provides fresh produce for various large retailers and upscale restaurants, as well as the NHS.[4] In January 2020, we saw Israeli dill in Asda, supplied by Watts Farms.

Worldwide Fruit
Worldwide Fruit is an international fruit distribution company, sourcing from over 1,000 growers across the globe and specialising in avocados, apples and pears.[5] It sources avocados from Israel for half of the year.[6]
The company supplies the biggest UK supermarkets with fruit.[7] In January 2020 we found Worldwide Fruit's avocados in Morrisons. The Israeli supplier was Galilee, which sources produce from the settlements (see page 33). Worldwide Fruit also supplies M&S with produce.[8] Its parent company, Fruition, has won a 'Waitrose Way' award for the fresh goods it supplies to Waitrose.[9]

Fresca Group
Kent-based Fresca Group owns a number of companies, including FreshPLUS and The Avocado Company.[10] We have photographed FreshPLUS' grapefruit in Lidl. The Israeli supplier was Mehadrin (see page 26). The Avocado Company sources avocados from Israel,[11] whilst claiming that it says "no to worker expoloitation."[12]