In April 2012 the Co-op announced that it would "no longer engage with any supplier of produce known to be sourcing from the Israeli settlements".[1]
This meant that, not only would the company not stock goods produced in the settlements – a policy it had adopted in 2009 – but it would not deal with any businesses operating in the settlements, regardless of whether the products being sold were from the Occupied Territories or not.
According to the Co-op, "the decision had an impact on four suppliers, and circa £350,000 of trade."[2] This made the company the first major supermarket in Europe to take such a step.[3] The Israeli suppliers impacted were Agrexco, Arava Export Growers, Adafresh and Mehadrin. The Co-op's decision was made after a concerted campaign by BDS organisers, who went to the Co-op's local and regional meetings over a period of several years, pushing for a change in policy.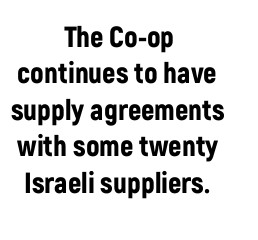 However, the Co-op was also very careful to stress that the move was not a boycott of Israeli business, saying it "continues to have supply agreements with some twenty Israeli suppliers that do not source from the settlements, a number of which may benefit from a transfer of trade". Obviously these companies, whilst not directly aiding the settlement economy, still pay taxes to the Israeli government and some of those taxes undoubtedly go towards funding the infrastructure of Israel's oppressive occupation in the West Bank and siege on Gaza.
The Co-op's current stance is weaker in comparison to their previous support for the South African anti- apartheid movement, where they supported an all-out boycott of South African goods.[4] Archbishop Desmond Tutu, the first black bishop of Cape Town, has repeatedly likened Israel's treatment of Palestinians as akin to apartheid.[5]
In recent years, a coalition of Zionist groups have been pressuring the Co-op to reverse its policy of boycotting companies that source from the settlements. Zionist protests have been held outside Co-op supermarkets.[6]
In autumn 2019, Corporate Occupation photographed Israeli mangoes being sold in Co-op. As well as mangoes, the supermarket sells Israeli figs, pomegranates and avocados. The store claims that these products do not come from businesses that source from the settlements.[7]
We have profiled a number of companies, such as Galilee and Miriam Shoham, which source from the occupied West Bank and Golan Heights, and which are not on the Co-op's boycott list.
The next step is to persuade the Co-op to extend its list to include these companies, and then to support a full boycott of all Israeli goods.