The UK's largest retailer has a shameful history when it comes to stocking produce grown in the illegal West Bank settlements.
The company continues to sell Israeli produce, despite the demands of BDS campaigners. In 2007, UK activists entered the agricultural settlement of Tomer in the occupied Jordan Valley and photographed Medjoul dates packed by Carmel Agrexco, labelled 'Made in Israel' and bound for Tesco stores. The discovery led to an ITN expose in the same year, accusing supermarkets of misleading British consumers.
Tesco admitted it had acted "in error"and stated that Israeli dates "originating solely from the West Bank will [in the future] be labelled as such". Tesco continued to source dates from West Bank settlements, and label them as such, until at least Christmas 2013 when Tesco own-brand
'King Solomon' Medjoul dates appeared in UK stores labelled "West Bank (Israeli Settlement Produce)".[1]
Tesco has received heavy pressure from BDS campaigners over its stocking of Israeli produce.
During the Israeli massacre in Gaza in 2009 Tesco set up an option on its telephone line to complain about the store's stocking of Israeli produce. The customer services line told customers: "If you are ringing regarding Israeli goods, please press one."[2]
In 2014, the supermarket announced it would no longer be selling products originating from the West Bank, beginning from September of that year. According to the Jewish Chronicle, a spokesman from the chain said the move was not "politically motivated".[3]
In 2016, Irish Palestine solidarity campaigners held a large protest outside a Tesco store in Sligo, Ireland. "This year marks the 32nd anniversary of the anti-apartheid strike at Dunnes Stores in Dublin, an action that resounded all the way to Nelson Mandela's cell on Robben Island in Apartheid South Africa; we believe that thirty-two years on, it remains immoral to stock products that help to fund apartheid."[4]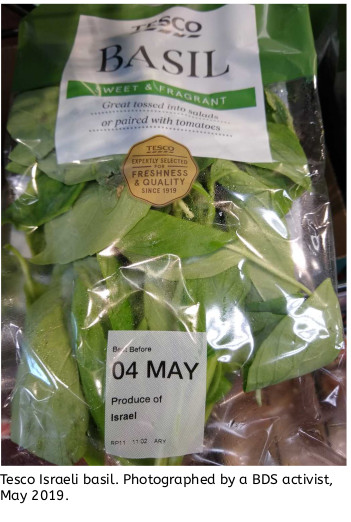 Tesco continues to ignore the demands of campaigners and stocks Israeli fresh goods, including produce from the West Bank. In late 2019 we photographed Hadiklaim dates, labelled 'Produce of Israel', being sold in the
supermarket. Hadiklaim sources its dates, and has packing houses, in the Jordan Valley. (See page 36).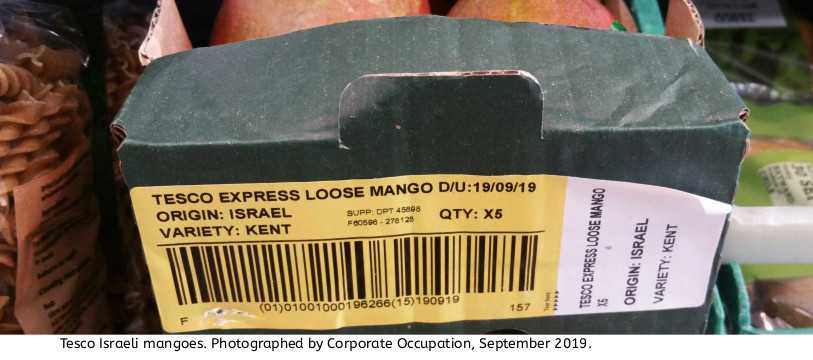 supermarket. Hadiklaim sources its dates, and has packing houses, in the Jordan Valley. (See page 36).
In autumn 2019, we photographed Israeli Kent mangoes in Tesco. Israeli mangoes are omnipresent on UK supermarket shelves this year. Many of them are supplied by Galilee, although we can't say which company Tesco is sourcing its mangoes from.
Another company which supplies European supermarkets with fresh mangoes is Miriam Shoham (see page 32). The Mehadrin-owned company has a packing house in the occupied Golan and is certified with Tesco's 'Nature's Choice' certificate. Therefore it's likely that Tesco stocks Shoham produce too.
According to FreshPlaza, mango production kicked off as big business in Israel in 2016, with a focus on exporting to Europe. Israeli companies also own patents on several mango brands for mango crops grown outside Israel.
Tesco has an agreement with AMC Fruit to supply Jaffa branded goods to its stores. The Jaffa brand is owned by the Israeli Citrus Marketing Board. (See page 30).
In 2019 and 2020, we saw the following fresh products, marked 'Produce of Israel', in Tesco stores: red grapefruit, peppers, basil, Hass avocados, mangoes and coriander. Additionally, Tesco states on its website that its Sharon fruit, 'Tesco Finest' potatoes, organic potatoes, lemons, radishes and samphire are also sourced from Israel.
In late 2019, Tesco started stocking Sabra houmous in its dips section. The Sabra brand is owned by Israeli company Osem.[6] Tesco also sells Barkan Israeli wine.