2019 statistics at a glance
• Caterpillar military bulldozers were used in all of the 14 punitive demolitions carried out by the Israeli military, demolishing 11 homes and 3 water systems.
• The Israeli military carried out 61 Israeli incursions into the Gaza strip. Caterpillar bulldozers are the equipment of choice in these incursions.
• Caterpillar equipment was used to uproot at least 3000 Palestinian trees.
• Caterpillar machines were used to erect at least 8 roadblocks.
• At least 30 Palestinian homes were destroyed using Caterpillar equipment.
• Caterpillar equipment was used on at least 2 occasions to destroy the entire Bedouin village of Al-Araqib.
• Demolitions involving Caterpillar equipment affected at least 305 children.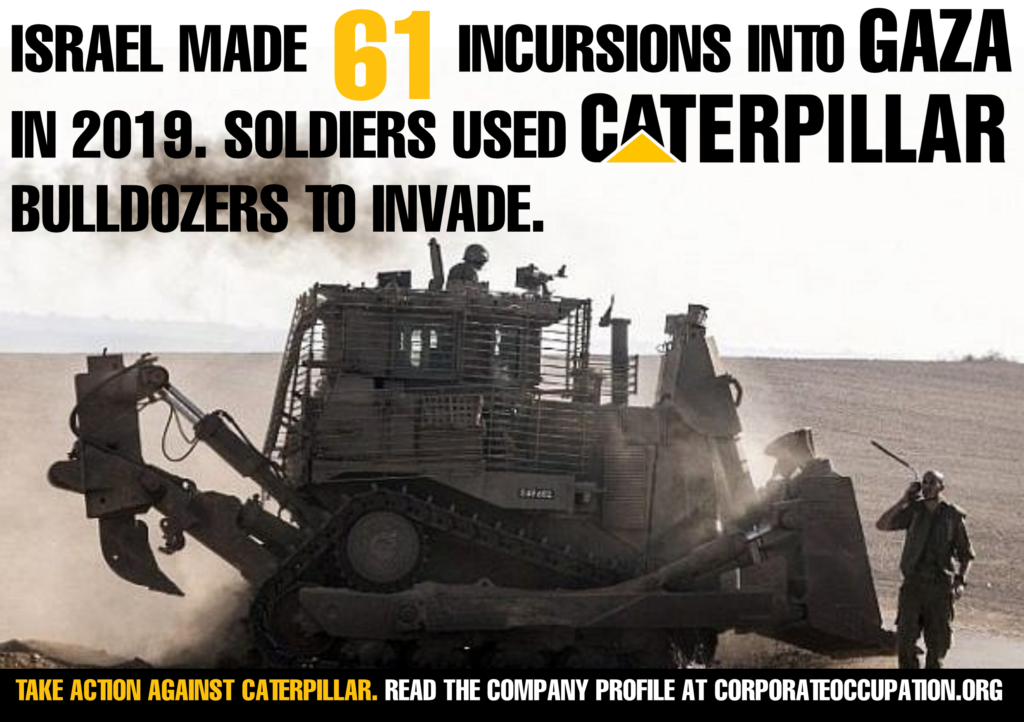 Our research
We compiled our 2019 data by using the Israeli Committee Against House Demolitions' monthly Demolition & Displacement Reports. We painstakingly searched the internet for photo/video evidence of which bulldozer was used for each demolition/razing of land/chopping down of trees.
For around 60% of demolitions, we could not be 100% sure of the bulldozer used, and therefore these demolitions are not included in our final figures. This is because many news agencies and social media users upload stock photos or random photos of demolitions when reporting on a specific incident. If we were uncertain whether a photo was a stock photo, we did not include it in our results.
We used ICAHD's statistics to record the number of people displaced/affected in each incident, and then added them up to make a total. If ICAHD didn't record the number of people displaced or affected in an incident, neither did we.
To view our yearly table of the number of demolitions identified, and bulldozers that were used, download this document here.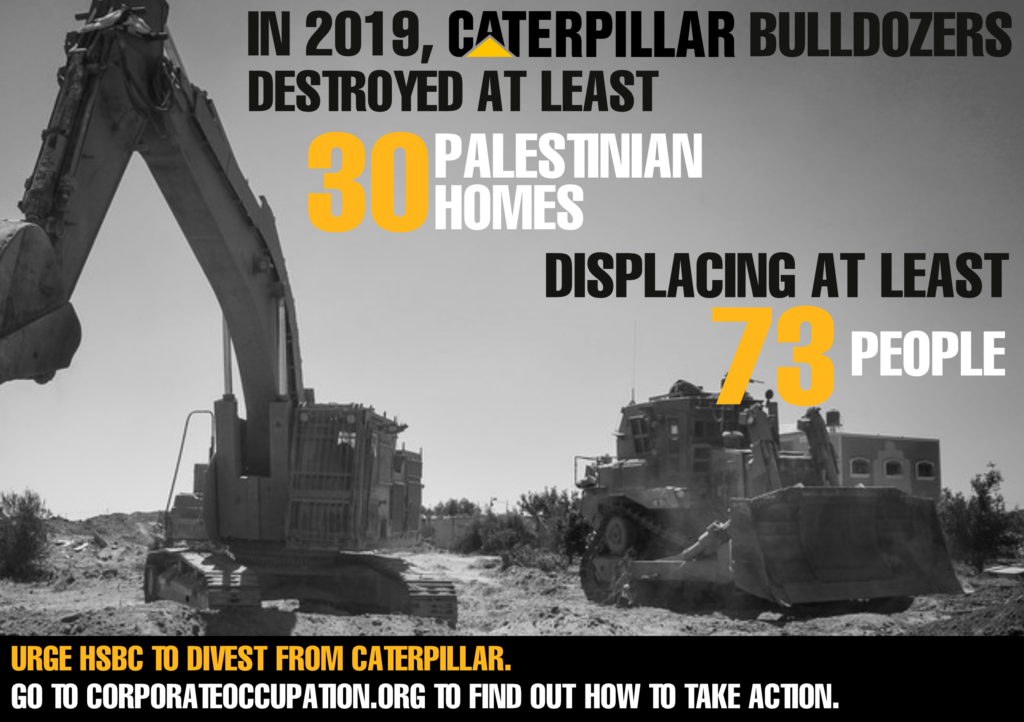 Caterpillar's complicity in the Israeli military's Punitive demolitions
Corporate Occupation found that Caterpillar bulldozers were used in all 14 of the punitive demolitions carried out by the Israeli military in 2019.
These punitive demolitions are acts of collective punishment, illegal under international law.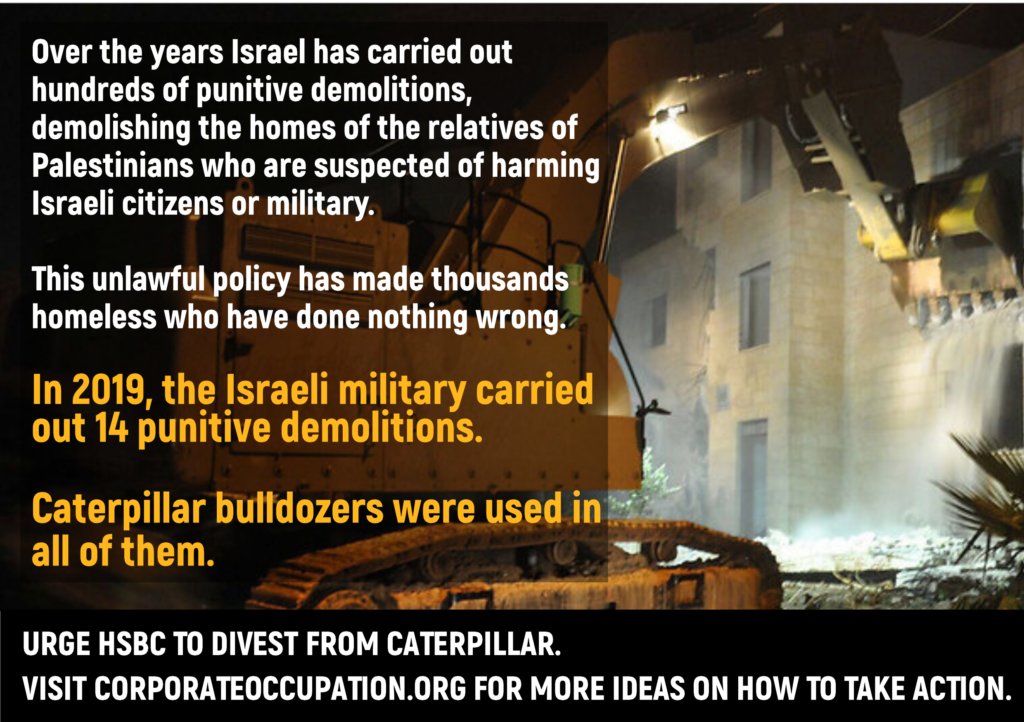 About Punitive demolitions
Israel has a policy of demolishing the houses of people accused of being involved in resistance against the occupation. These demolitions are often carried out on family homes after the accused person has been arrested or killed by the Israeli occupation forces.
Punitive demolitions are collective punishments, designed as acts of vengeance against the families of those involved in violent resistance. They are designed to punish people who were not involved personally in armed resistance. The demolitions are often carried out before the accused has stood trial.
"The policy of punitive house demolition is, by definition, meant to harm people who have done nothing wrong and are suspected of no wrongdoing," said B'Tselem, "…but are related to Palestinians who attacked or attempted to attack Israeli civilians or security forces. In almost all cases, the individual who carried out the attack or planned to do so no longer lives in the house, as they were killed by Israeli security forces during the attack or were arrested and face a long prison sentence in Israel."
Case study: The Abu Hmeid family home
Youssef Abu Hmeid's family home was originally destroyed in December 2018. Youssef Abu Hmeid was arrested for throwing a marble slab which killed an Israeli soldier who was raiding his house in Ramallah's Al Amari refugee camp. He is now serving a life sentence.
The family's appeal to the Israeli Supreme Court against the demolition had been rejected. The judge in the case ruled: "I am aware of the harm the demolition will cause to the building's residents. However… given the importance of an effective deterrence in our case and in general for the physical security of Israeli citizens, I am of the opinion that none of the harm involved here, as serious as it is, would justify reducing the scope of the demolition order."
In the early hours of the morning on 16 December 2018, before Islam had been tried, at least 500 soldiers were involved in invading Al Amari camp to carry out the demolition. Hundreds of residents were forced out of their homes at gunpoint. People were herded to the football field of a nearby school and detained there. A pregnant woman, who entered labour while detained, was initially denied medical care.
Solidarity activists were protesting against the demolition inside the Abu Hmeid house, but were violently removed. In total 66 people were injured, before the building was destroyed using explosives and bulldozers.
In October 2019 the Abu Hmeid family home was destroyed a second time, after the family had begun to rebuild. A video of the demolition can be viewed here.
Corporate Occupation found that the bulldozer being used in the video was manufactured by Caterpillar.
Caterpillar equipment used in the destruction of Al-Araqib
The Israeli authorities are attempting to ethnically cleanse the Palestinian bedouin village of Al-Araqib, which lies within Israel's borders. The entire village has been demolished 174 times at the time of writing.
Corporate Occupation's research found that, during 2019, Caterpillar's bulldozers were used in at least 2 of the demolitions of the village. It is highly likely that Caterpillar bulldozers were used many more times in Al-Araqib in 2019. However, because the village has been destroyed so many times, it is almost impossible to identify which bulldozer photographs match which incident. Therefore, we only conclusively found evidence of 2 demolitions using Caterpillar machines in 2019.
Caterpillar bulldozers used in the destruction in Wadi Al-Hummus
Two Caterpillar bulldozers were used to demolish Palestinian homes in the East Jerusalem neighbourhood of Wadi Al-Hummus in July 2019. The Palestinian Boycott National Committee (BNC) wrote at the time:
"On Monday, Israel committed its biggest crime of ethnic cleansing since 1967, against the Palestinian neighborhood of Wadi Hummus in occupied East Jerusalem. In a military raid that began at dawn, Israeli soldiers destroyed, in just a few hours, the homes of hundreds of Palestinian families. This attack came almost immediately after an Israeli military court had authorized the demolitions. Another 116 homes are under imminent threat of demolition in Wadi Hummus."
The Israeli military used extreme violence to drag residents out of their houses. This powerful video shows the buildup to the demolition:
Take action against Caterpillar
• Call for investors to divest from Caterpillar. Protest outside your local HSBC and Barclays banks, calling for them to drop their shares in Caterpillar.
• Check that your pension is not invested in a fund that invests in Caterpillar.
•Do a Freedom of Information (FOI) request to find out where your local authority pension scheme is invested. Check that it is not invested in Caterpillar.
• Persuade your local council or university to demand that their contractors do not use Caterpillar equipment. Check out our article about UK university partnerships and investments in Caterpillar.
• Boycott Caterpillar branded footwear, clothing and toys. Protest outside shops that sell Caterpillar branded products.