By Therezia Cooper
The first of July 2010 saw the tenth annual 'Israel Opportunity Investment Conference' take place in London. Represented by the PR company Grayling (www.grayling.com), the aim of the day was to sell Israel as a secure investment opportunity and a promising emerging market worthy of attention.
Only four weeks before the conference, Israel had been accepted into the OECD (Organisation for Economic Co-operation and Development) despite the efforts of campaigners to prevent this by protesting that a country which include their illegal settlement activities and businesses in their economic data can hardly be seen as complying with the OECD motto "For a stronger, cleaner, fairer world economy".  However, since Israel had also been promoted from 'emerging' to 'developed' market status by the MSCI a few days before the event, there was always bound to be a lot of interest from investors willing to find ways to benefit from Israel's occupation economy.
Focusing on banking, energy and the biotech sector, the conference highlighted the already cosy relationships between Israel and global international companies. For instance, the sessions encouraging investment in the Israeli businesses Bank Leumi, Bank Hapoalim and the Strauss Group were facilitated by two representatives from Deutsche Bank and Barclays Capital respectively. Both financial institutions have established offices in Israel already.
The literature handed out to attendees at the conference gave, as one of the top ten reasons for investing in the country, that 'The state of Israel is committed to encouraging local and foreign direct investment by offering a wide range of incentives and benefits, such as investment grants, tax benefits and exemptions to investors', hence making it very clear to potential investors that should they choose to get involved with any of the companies exhibiting, they would be beneficiaries of Israel's apartheid system.
Israeli companies seeking foreign investors at Israel Opportunity 2010:
Bank Hapoalim http://www.bankhapoalim.com/ 
Bank Hapoalim is one of Israel's biggest banks and is listed on both the Israeli and London Stock Exchange. They have either branches or cashpoints in most bigger illegal Israeli settlements in the West Bank and occupied Golan, but refuse to provide any banking services to Gaza.
They have an office in the UK:
Bank Hapoalim International, 25 Savile Row, Mayfair, London W1S 2ES. Phone: 02079735400 (General Manager Avi Levi).
Poalim Asset Management (UK) Limited is owned by Bank Hapoalim and has offices in London and Manchester:
Clarendon House, 11-12 Clifford Street, W12 2LL, London
and 7 Charlotte Street, Manchester, M1 4HL
Hapoalim Fiduciary Services Limited, PO Box 224, St Helier, Jersey, JE4 9SN
Seefeldstrasse 15, CH-8008, Zurich , Switzerland
Azriely Towers, 132 Menachem Begin Road, The Round Tower 24th Floor, Tel Aviv 67021, Israel
Bank Leumi http://www.bankleumi.co.uk/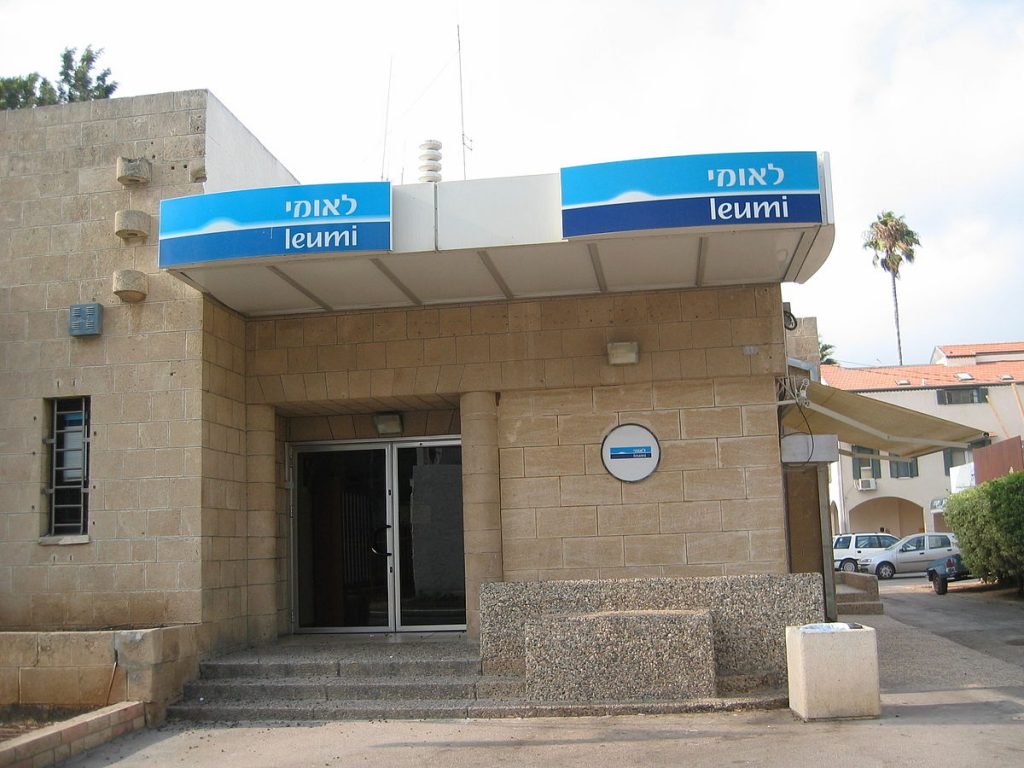 Bank Leumi is Israel's largest bank. The Bank is openly Zionist and originated from the Anglo Palestine Bank -a subsidiary to the Jewish Colonial Trust- which was created by Theodore Herzl as a financial institution to aid the Zionist movement.
Bank Leumi has branches in the settlements of Ma'ale Adumim, Oranit, Pisgat Ze'ev, Gilo and Kiryat Arba, and in Katzerin in the Golan Heights. A subsidiary of the bank (89.75%), Leumi Mortgage Bank, has a branch in a settlement neighborhood of Jerusalem. It offers special deals on mortgages in the settlement of Zufin and The bank has partial control over several companies who are involved in the occupation: Paz Oil Company, (18%) Super Pharm, and (15%) Hot Communication Systems (cable TV).
Bank Leumi specialise in services for large corporations and mid-sized companies. They have offices in eighteen countries and subsidiaries in the US, UK, Switzerland, Luxembourg and Romania.
Bank Leumi (UK) Plc, 20 Stratford Place, London W1C 1BG. Phone: 02079078000 (CEO and Managing Director Lawrence M Weiss)
Clal Biotechnology http://www.cbi.co.il/
Clal Biotechnology is a subsidiary of Clal Industries and Investments Ltd (64% of company shares) and Teva Pharmaceutical Industries Ltd (15%). They were established in 1993 and describe themselves as Israel's leading biotechnology investment company.
Teva Pharmaceutical has a subsidiary in the UK, Teva UK Ltd, which has premises in Eastbourne, Essex, Castleford and London – click here for a list of locations
Teva UK markets medicines to hospitals and pharmacies in the UK under the Zaponex, Zonex, Cytistat, Tevadaptor and Tevagrastim brandnames (see http://www.tevahospitals.co.uk/products.pdf).
Clal Biotechnology Industries Ltd, 3 Azrelis Center, 45 floor, Tel Aviv 67023, Israel. Phone: 0097236124545.
Delek Energy http://www.delek-group.com/
Delek energy is an oil and gas company and a subsidiary of the Delek Group, one of the largest companies in Israel. They operate mainly offshore in Israel but also have oil and gas producing assets in the Western US  -where they work through their subsidiary Elk Resources.
Delek operate fuel stations and 'Menta' branded shops on illegally occupied territory in the West Bank.  Their HQ is in Netanya industrial zone in 1948 Israel.
Delek Benelux (Belgium, the Netherlands and Luxembourg) operates a network of petrol stations under the Texaco brand.
Delek Group Headquarters, 7 Giborei Israel Street, POB 8464, Netanya, 42504, Israel. Phone 0097298638444. Email: contact@delek.co.il
Elk Resources, 1401 17th Street, Suite 700, Denver CO 80202, USA.
Gazit Globe http://www.gazit-globe.com/
A real estate investment company, Gazit Globe specialises in 'the acquisition, development and management of supermarket anchored shopping centers'. They are a subsidiary of Gazit Inc and operate in more than 20 countries.
Given Imaging http://www.givenimaging.com/
Given Imaging make 'Pill cams' for gastrointestinal visualisation and have subsidiaries in the US, Germany, France, Japan, Australia, Singapore and Vietnam. They also have a production facility in Ireland.
Given Imaging, 2 Hacarmel Street, New Industrial Park, Yoqneam 20692, POB 258, Israel.
ICL (Israel Chemicals Ltd) http://www.icl-group.com/
ICL is a fertiliser and chemicals company which consists of ICL Fertilizers, ICL Industrial Products and ICL performance Products. They are prominent producers of potash and bromine, and have are the only company with rights to extract minerals from the Dead Sea (which they massively exploit through their huge factory Dead Sea Works) and phosphates from the Negev. ICL have production facilities in Israel, Europe, North and South America and China.
According to their literature they also mine potash and salt in Spain and the UK.
All Israeli Dead Sea Minerals, found in cosmetic products, come from Dead Sea Works.
ICL, Millenium Tower, 23 Aranha Street, Tel Aviv, 61070, Israel. Phone: 0097236844444.
Itamar Medical http://www.itamar-medical.com/
Itamar Medical is a medical technology company. They have offices in Israel and the US.
Itamar Medical Ltd Headquarters, 9 Halamish Street, PO Box 3579, Caesarea, 38900 Israel. Phone 0097246177000 Email: info@itamar-medical.com
Itamar Medical Inc, 842 Upper Union Street, Ste 2, Franklin, MA 02038 USA. Email: infousa@itamar-medical.com
Oil Refineries Ltd (Bazan) http://www.orl.co.il/
Located in Haifa, Oil Refineries Ltd is Israel's largest energy group and refinery.
Bazan Oil Refineries, PO Box 4, Haifa 31000, Israel
Ormat Industries http://www.ormat.com/
Ormat Industries is a company operating in the geothermal and recovered energy power business. They have an American subsidiary called Ormat Technologies, based in Nevada. They also operate power plants in Nicaragua, Kenya and Guatemala.
Strauss Group http://www.strauss-group.com/
The Strauss Group is the second largest food and drink company in Israel, with a large trade in green coffee. The company has a Strauss North America division and operates in eleven countries, with 19 manufacturing sites. For a list of their brands and partnership brands see http://www.strauss-group.com/en/Top-Menu-Folder/OurBrands/ .
Non-Israeli companies present at Israel Opportunity 2010
PR Companies:
Grayling http://www.grayling.com/
Grayling were the PR organiser for this event and claim to be the world's second largest independent public relations, public affairs, investor relations and events consultancy. Their motto is 'A different kind of thinking for a different kind of world'. Representing Israel for an event designed to increase the profitability of their occupation economy, its very questionable what kind of world they are trying to build.
Grayling has two London locations:
Portland House, Bressenden Place, London SW1E 5BH. Phone: 02079321850, or
29-35 Lexington Street, London W1F 9AH. Phone: 02070257500.
Hudson Sandler http://www.hudsonsandler.com/
29 Cloth Fair, London EC1A 7NN. Phone: 02077964133 Email: contact@hudsonsandler.com
Banks and financial services (all with various locations)
HSBC http://www.hsbc.co.uk/1/2/
Bank of America https://www.bankofamerica.com/
Deutsche Bank http://www.db.com/index_e.htm
Barclays Wealth http://www.barclayswealth.com/
Rathbone Associates http://www.jcra.co.uk/
JP Morgan http://www.jpmorgan.com/pages/jpmorgan
Consultants
KPMG http://rd.kpmg.co.uk/
Various locations. For their switchboard, call 02073111000
BDO Hayward http://www.bdo.uk.com/?Open
BDO Head Office, 55 Barker Street, London W1U 7EU. Phone: 02074865888 Email info@bdo.co.uk
Ernst and Young http://www.ey.com/UK/en/home
For a list of Ernst and Young locations and contact details see http://www.ey.com/OurLocations
Lawyers
Norton Rose http://www.nortonrose.com/
For offices and locations see http://www.nortonrose.com/locations/locations5423.aspx?lang=en-gb
McGuire Woods http://www.mcguirewoods.com/
Has a London office: Imperial House, 15-19 Kingsway, London WC2B 6UN. Phone 02076321600 Email: london@mcguirewoods.com
Other organisations
CBI http://www.cbi.org.uk/
Business lobbying organisation.
CBI, Centre Point, 103 New Oxford Street, London WC1A 1DU. Phone: 02073797400.