By Tom Anderson & Therezia Cooper

One of the companies in Ma'ale Efraim is Impertec Supergum. Impertec is part of the Supergum Group. Impertec and Supergum are sister companies with the same owners.  Impertec manufactures gas masks, riot gear and rubber extrusions. Supergum manufactures rubber, plastic and sealing products. Both product ranges have military applications.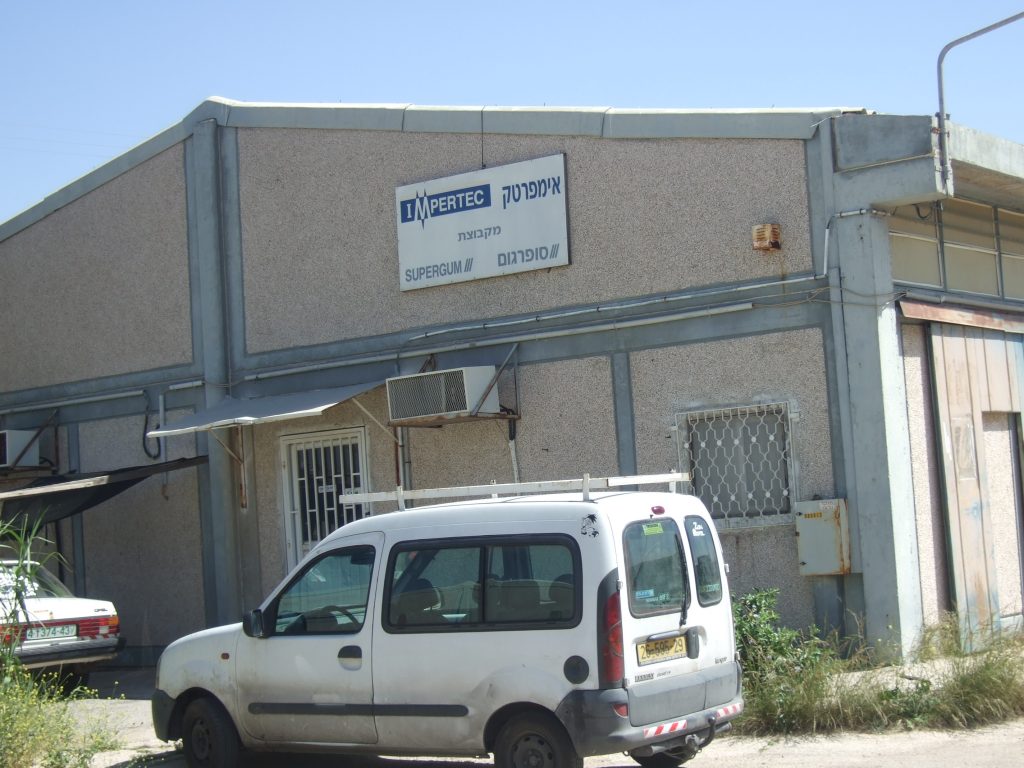 The company also has another manufacturing site in the Barkan industrial zone, a large settlement industrial zone in the West Bank,close to the settlement of Ariel (see http://www.whoprofits.org/Company%20Info.php?id=842).
Impertec was an exhibitor at the Israel Security Exhibition in 2009.  An event aimed at raising the profile of the Israeli 'security' sector in foreign markets. This sector has the advantage  of 0f developing within the context of Israeli apartheid and military occupation, a context ripe for technological innovation.
Supergum also promotes itself at several international exhibitions.
On Impertec's foreign language website its location is given as 11 Shoncino Street, Tel Aviv.  However, in the Israeli Security Exhibitions 2009 handbook it lists itself as Derech Barkan, in Barkan Industrial Zone in the occupied West Bank. On their 'contact us' page Supergum show an aerial view of some warehouses and list the Tel Aviv address. In fact, the warehouses shown look suspiciously like the company's site in Barkan industrial zone, not central Tel Aviv.
An  Israeli government company profile on Supergum Industries states that the company was established in 1956, had a $50 million turnover in 2008 and  'operates in 4 facilities in Israel- 3 manufacturing plants and 1 managerial (marketing, sales, management and administration) facility in Tel-Aviv'.  It is not specified whether these four plants 'in Israel' include the Ma'ale Efraim and Barkan sites, situated on illegally occupied territory in the West Bank.  According to the government profile Supergum's 'International customers include top automotive manufacturers in North America and Europe.'  Supergum is listed as having offices in 'North America and Europe and operates front logistical facilities in the USA and Germany.'
Impertec's international customers include ILC Dover, an American supplier of spacesuits to NASA. Supergum customers include Egged, International (Navistar), Crown Automotive, MAN (who have dealerships in the UK), Johnson Controls (Automotive System Group), the Swedish army and GIAT Industries (France).
The Supergum Group is privately owned by Eylon Ronel and Yehuda Gescheit.