By Tom Anderson & Therezia Cooper
During the last four years Corporate Watch have made numerous visits to the settlement industrial zone of Mishor Adumim with the aim of documenting the companies working there.  We have also been highlighting the impact the expansion of the illegal settlement of Ma'ale Adumim is having on the Palestinian communities living in the area and tried to contextualise the information to inform international BDS action.
One of the biggest companies trading from Mishor Adumim is the Israeli carbonated drinks manufacturers SodaStream. The company has met with pressure from the international BDS movement for a number of years as a result of their occupation profiteering.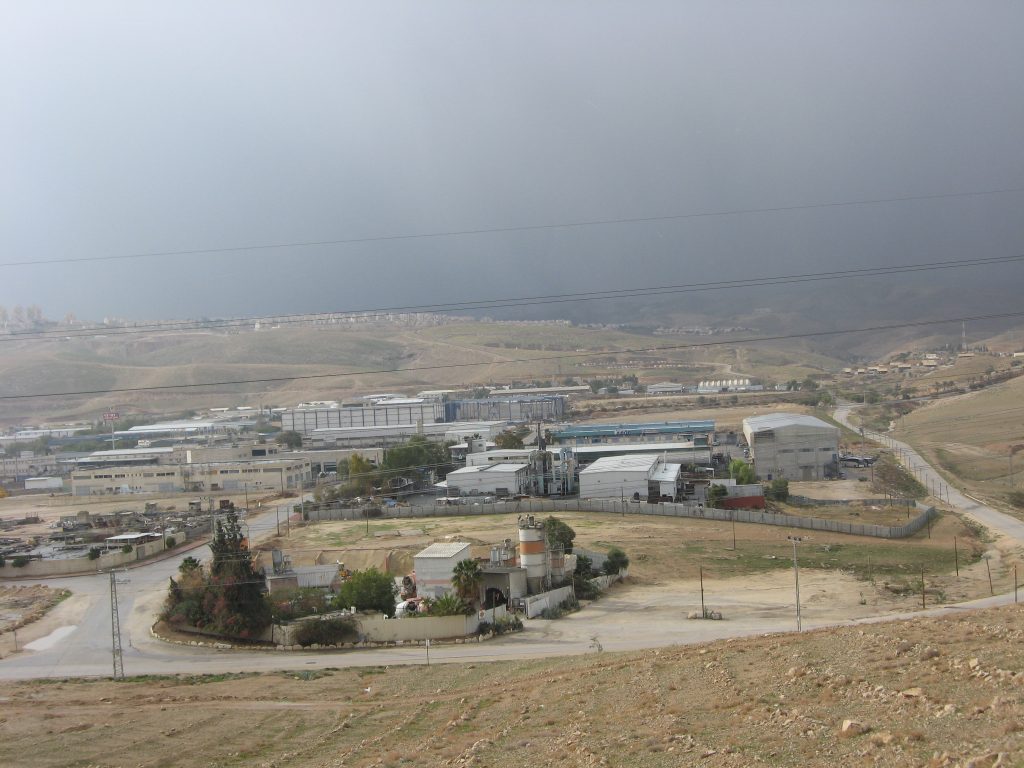 On January 12th 2013 we went back to see if there have been any new developments in the zone and this is what we found.
Despite the fact that more and more businesses are moving out of the settlement industrial zones there were signs of three areas of expansion around the Mishor Adumim industrial zone. This kind of expansion is common in the industrial zones even when it is not profitable, as it is an effective way of controlling land. Ma'ale Adumim is one of the most quickly expanding settlements in the West Bank  and integral for Israel's plans to create a greater Jerusalem area, separating the West Bank from East Jersualem.
A large area in the south west part of the industrial zone is in the process of having land cleared and flattened, creating a new space for possible new factories to be built. The construction machinery being used to carry out this work that we noticed was made by Caterpillar and Liebherr.
On the southern side of the industrial zone are several buildings which have not been noted on our previous visits and which seemed new. They looked like they were still empty and had a sign in Hebrew which appeared to be inviting enquiries. There was a JCB digger working near this land.
On the eastern side of the entrance there was a large new building which was currently under construction. There was no sign of any company name on any of the buildings yet, but the size suggests that this one might be one to watch. Manitou machinery was seen working on the new structure.
Examples of previous Corporate Watch articles on the issue of Mishor Adumim and SodaStream can be found here:
Occupation Industries: The Israeli Industrial Zones
Dear Corporation -A Response to SodaStream
There is also a comprehensive section on the Mishor Adumim industrial zone in our book Targeting Israeli Apartheid: A Boycott Divestment and Sanctions handbook